Latest news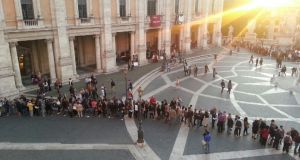 Rome's museums, galleries and cultural academies stay open until 02.00.Notte dei Musei is scheduled on Saturday 19 May, with the late opening of Rome's state, m...
City says sheep already used to maintain Rome's Caffarella park.Sheep could be used to maintain Rome's wildly overgrown parks, with cows being deployed where th...
New rooms and Borromini staircase open to public for first time. The Galleria Nazionale d'Arte Antica at Palazzo Barberini opens 11 new rooms to the public on...
The populist Movimento Cinque Stelle (M5S) and right-wing Lega agree a government 'contract', but who will head the new executive remains unclear. The populi...