Palazzo Merulana houses Cerasi collection of 20th-century Italian art.
Palazzo Merulana, a museum hosting the important early 20th-century art collection of the Cerasi Foundation, is located beside the Viale Manzoni corner of Via Merulana in Rome's Esquilino district.
The city-owned building on Via Merulana 121 – once the home of Rome's health offices – underwent an €5 million three-year restoration after lying in a state of abandonment for decades.
The collection of Claudio and Elena Cerasi comprises 90 works, much of it created between the two world wars, including paintings from the Scuola Romana movement.
The bulk of the collection is on the first floor whose magnificent central salone is filled with works by artists such as Balla, Cambellotti, de Chirico, Donghi, Capagrossi, Casorati, Pirandello and Severini.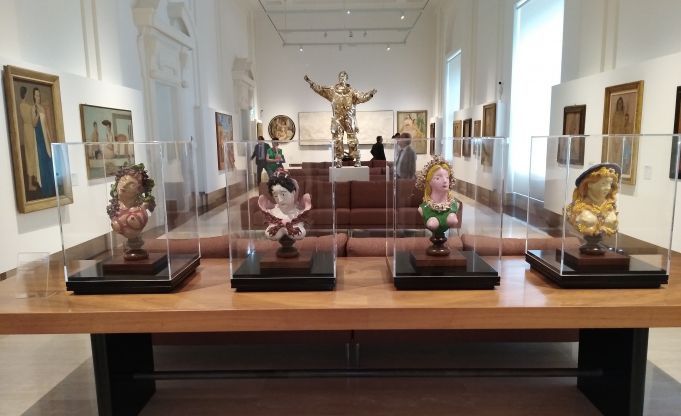 The second floor has space for exhibitions, as well as containing works by Boetti, Mafai, Raphaël and Schifano, while the top floor is reserved for cultural events. This openness to collaboration with Rome's artistic scene, in particular with cultural associations in the multi-ethnic Esquilino neighbourhood, is a central focus of the museum which will be a hub for theatre, cinema and music, in addition to visual art.
The spacious ground floor of the palazzo houses a collection of sculpture and can be visited for free, with an art bookshop and outdoor terrace for coffee. The museum is a ten-minute walk from the Colosseum and is served well by buses, tram and the Metro A line at Manzoni.
Tickets cost just €4 and, unlike many Rome museums, Palazzo Merulana is
open on Mondays
. Its opening hours on weekdays (except Tuesday) are 14.00-20.00 and at weekends from 10.00-20.00. The museum is also open on request, for groups and schools, during the mornings. For details see
website
.
General Info
Address
Via Merulana, 121, 00185 Roma RM, Italy
View on Map
Rome's Palazzo Merulana art museum
Via Merulana, 121, 00185 Roma RM, Italy