The Vittoriano
Dominating the historic centre of the Eternal City is the monument dedicated to
King Vittorio Emanuele II
, but is also known by other names for all the historic elements that make up this iconic symbol of Rome.
The monument was designed by an architect named Giuseppe Sacconi who won a competition in 1882. In 1911, the monument was inaugurated in honor of the first king of Italy. Also known as the Altare della Patria, the Vittoriano complex hosts a number of other devoted monuments that were built at different times during the last century.
Front and centre is King Vittorio Emanuele II of Savoia, underneath are represented the different municipalities of Italy such as Florence and Bologna. There are also various inscriptions in the sparkling marble that represent the values and principles of Italy's free state, they read: "Patriae Unitati" and "Civium Libertati" ("The unity of the fatherland" and "Freedom of the Citizens).
Added in 1921 is the tomb of the Unknown Soldier, dedicated to soldiers who died in world war one, and consists of a statue in front of a gold mosaic.
The Terrace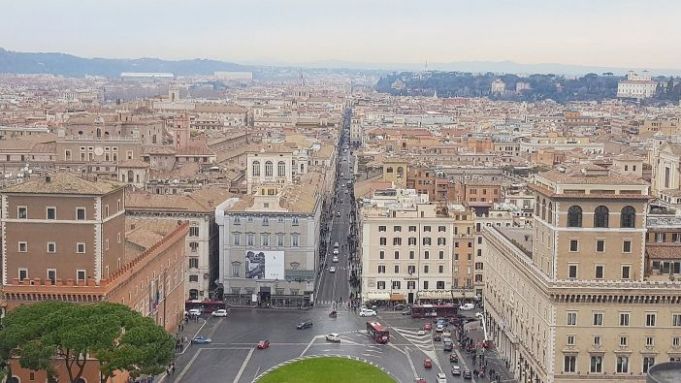 A glass elevator, the kind found in Willy Wonka's factory, takes you on a 55 second joy ride up to the top of the monument, 81 metres high. Atop the massive building is the
Terrazza Vittoriano
, or Terrazza delle Quadrighe, which offers a
panoramic view
of the city center. To the front is visible the grand piazza, Via del Corso, and if you squint your eyes (or you have really good vision) you can see the obelisk at Piazza del Popolo. To the right is the Fori Imperiale and Trajan's market, whose ruins show what life was like in ancient Rome. Taking the high ground and getting to look on to the tourists, taxi drivers, and other city dwellers that crowd the city below on any given day.
The Fori Imperiali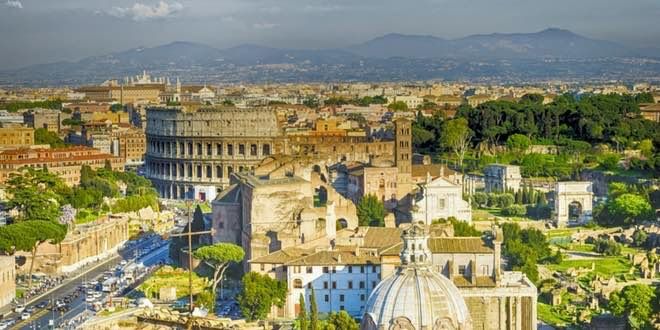 The Vittoriano memorial is often associated with the fascist rule of
Mussolini
, mostly because of the road that covers the ancient ruins, which forged as to leave a permanent reminder of Mussolini's rule. From the terrace, the road guides the eye from
Piazza Venezia to the Colosseum
to make a connection between the Fascist Period and Ancient Rome. The position and placement of the Vittoriano memorial is also not coincidental or random, but is intended, along with every other statuesque decoration or accent, to be allegorically symbolic of the principles of Rome.
The monument has gradually been built upon and added to since its construction, and every element has added rich historical and cultural value, making the Vittoriano complex a one of a kind, cumulative account of Rome's history.
General Info
Address
Piazza Venezia, 00186 Roma RM, Italy
View on Map
The Vittoriano terrace - Rome's Scrapbook
Piazza Venezia, 00186 Roma RM, Italy