Top things to do in the Italian capital when it's raining.
Rome is a vast treasure trove of archaeological wonders and cultural heritage, much of it in the open-air and best explored by foot.
However despite the impression that the sun always shines, the Eternal City gets its fair share of rain, often in heavy downpours or thunderstorms.
Here is a quick guide with some ideas to help tourists enjoy Rome in the rain.
Museums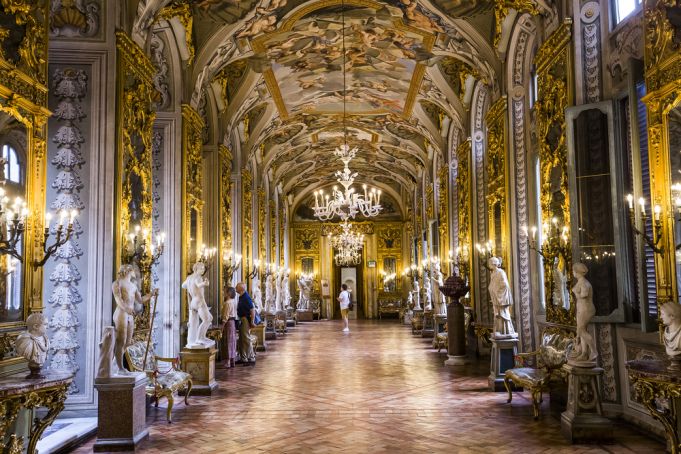 Museums are an obvious choice for a rainy day but note that the city's most popular venues such as the Vatican Museums, Capitoline Museums and Galleria Borghese tend to get more crowded when it rains. However Rome is full of less-visited museums with stellar collections including Palazzo Altemps and Palazzo Massimo alle Terme as well as gems such as Villa Farnesina with its Raphael frescoes. There are also sumptuous palaces open to the public including Palazzo Doria Pamphilj and - on Saturday morning only - the stunning Galleria Colonna.
Italy's national gallery of ancient art hosts a marvellous collection of paintings, mostly from before 1800, and is split between two venues: Palazzo Barberini and Galleria Corsini. Slightly off the beaten track is the little-visited Centrale Montemartini, a former industrial power plant filled with Roman sculptures, while if you are in the centre Galleria Spada is hidden in plain sight near Campo de' Fiori.
Chiostro del Bramante near Piazza Navona and Palazzo Bonaparte in Piazza Venezia both host vibrant exhibitions and have dining facilities. If modern or contemporary art is your thing it is easy to while away a few hours at the Galleria Nazionale d'Arte Moderna or MAXXI, the cutting-edge museum of 21st century arts.
Churches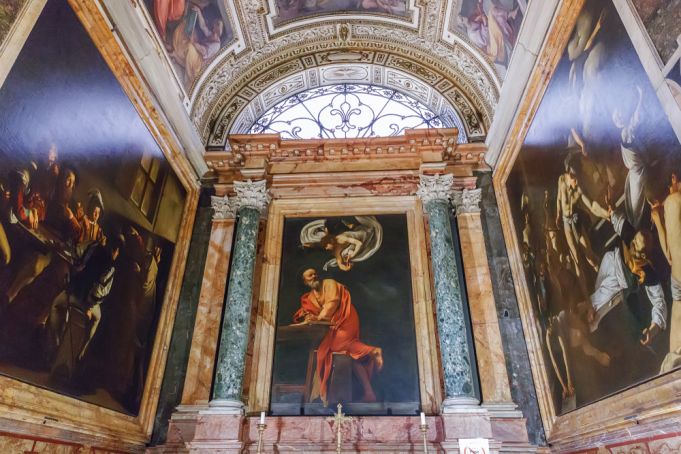 Rome has around 900 churches, many of them close together, making "church-hopping" a popular activity on rainy days. Most of these churches are located in the central area of the city, ranging from the famous to the obscure. While St Peter's is rarely without crowds, other Roman churches are often almost empty. Temples of divine art and architecture, Rome's churches contain art works by some of the most celebrated artists of all time - including Caravaggio - whose paintings and frescoes can be seen for free.
The papal basilicas of S. Maria Maggiore and S. Giovanni in Laterano are always busy however there are plenty of fascinating ancient churches slightly off the tourist trail including S. Prassede near Termini, S. Sabina on the Aventine hill and S. Clemente near the Colosseum.
Going underground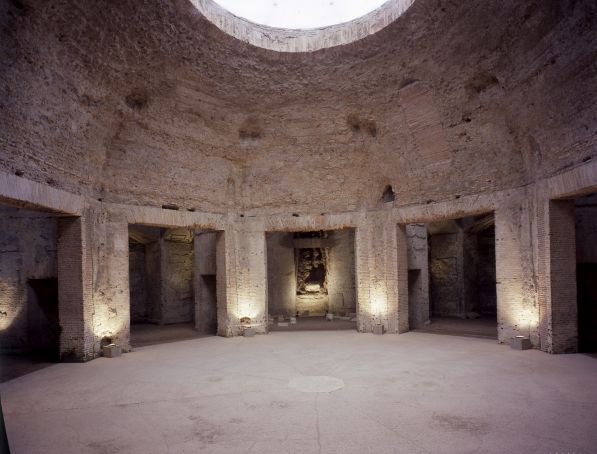 One place in Rome that never sees rain, or sunshine, is the complex of catacombs buried deep underground. The best known and easiest-to-visit catacombs are those dedicated to S. Callisto and S. Sebastiano on the Via Appia Antica; S. Agnese on Via Nomentana; Domitilla on Via delle Sette Chiese; and Priscilla on Via Salaria.
Catacombs were developed between the end of the second and start of the third century AD for the burial and funeral commemoration of Christians. Another fantastic underground option is the Domus Aurea which hosts the majestic remains of Emperor Nero's golden palace.
Indoor food markets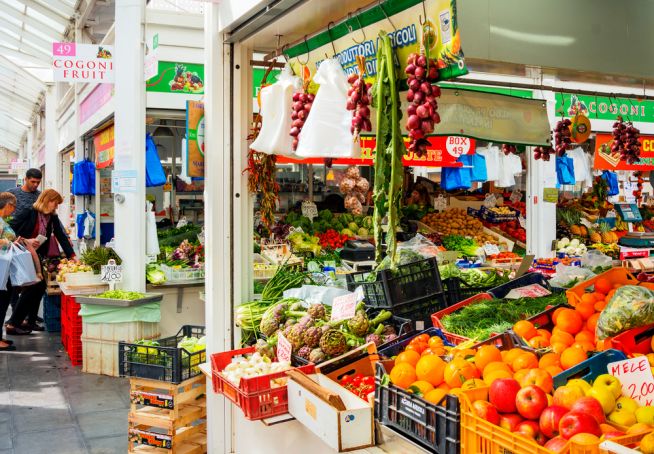 Although Rome's most famous market, Campo de' Fiori, is outdoors there are a number of covered markets worth checking out in the city. The multicultural Esquilino Market offers a huge range of ethnic food as well as stocking exotic herbs and spices. Mercato Testaccio hosts a thriving food market with a large variety of produce on offer from local grocers, butchers and fishmongers, along with a decent selection of take-away street food.
At weekends the farmers' market near the Circus Maximus offers 0-km organic fare, with lunch options including fried fish, vegetable soup and porchetta sandwiches.
Rome with kids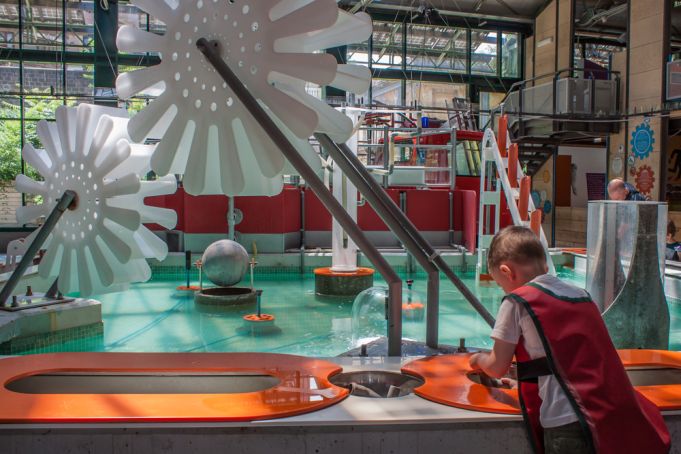 If you have kids in tow, make a booking for Explora Children's Museum which is filled with fun and educational games, puzzles and activities for small children. The Museum of Illusions, a new venue ideal for young people, offers visitors around 70 mind-bending visual, sensory and educational experiences.
Pantheon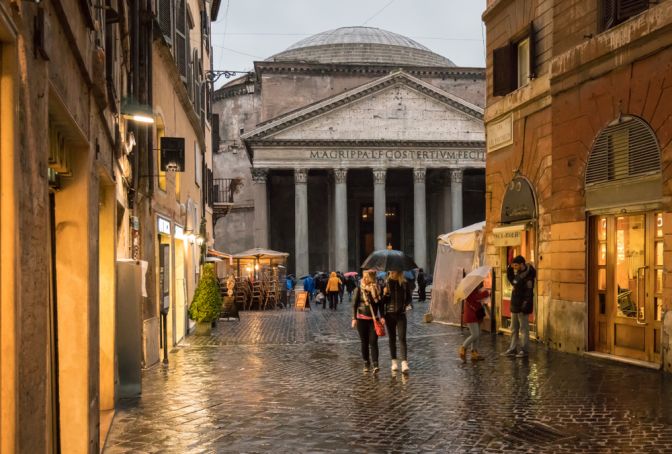 Seeing the rain fall through the oculus of the Pantheon is a surreal sight that many seek to photograph. However with the recent news that the Roman landmark is to charge visitors an entry fee (details of how the ticket system will operate are still being worked out), the Pantheon may no longer offer the spontaneity of popping in to take shelter from the rain.
Restaurants and wine bars


Lastly, a shower of rain provides the perfect opportunity to build your day, or evening, around a lengthy lunch or dinner, sampling the Roman cuisine in a trattoria or restaurant, or whiling away the afternoon in one of the city's many wine bars.