Often considered to be one of the greatest artistic by-products of the Italian Renaissance, the historic Villa of Farnesina is located adjacent to the Tiber river in Trastevere.
Construction of the estate was concluded in 1509 under the renowned Sienese architect, Baldassarre Peruzzi. Following its completion Sienese banker, Agostino Chigi, obtained ownership of the residence.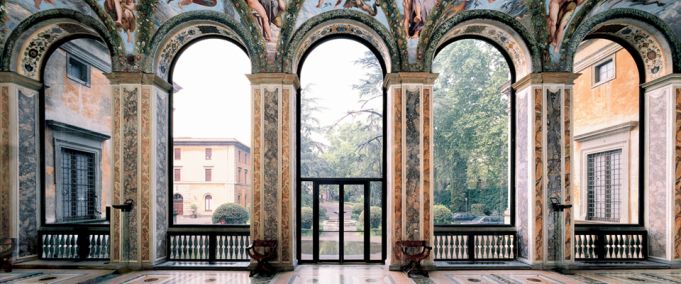 Furnished with the works of distinguished artists of the time, the palace attracted high ranking men of the clergy, poets, noblemen, and of course artists. A plethora of comedies and banquets were held in the picturesque venue, showcasing the grandeur of the frescoes that adorned the walls, ceilings, and archways. It is this opulence that continues to draws in the masses today.
Following Chigi's death, the villa was sold to Cardinal Alessandro Farnese, to which the estate owes its name. To differentiate the manor from Villa Farnese directly across the Tiber river, the name "Farnesina" was settled on. In 1714 the Bourbon family assumed ownership until Spanish Ambassador Bermudez de Castro, Duke of Ripetta eventually was given a long lease at ground rent.
The Italian State ultimately bought the estate from the Duke's heirs with the location becoming the official site of the Reale Accademia d'Italia in 1928. A law imposing the suppression of Accademia d'Italia led to ownership being shifted to the Lincei Academy in 1944. This is where the ownership still lies to this day with the villa being utilized for official representative purposes.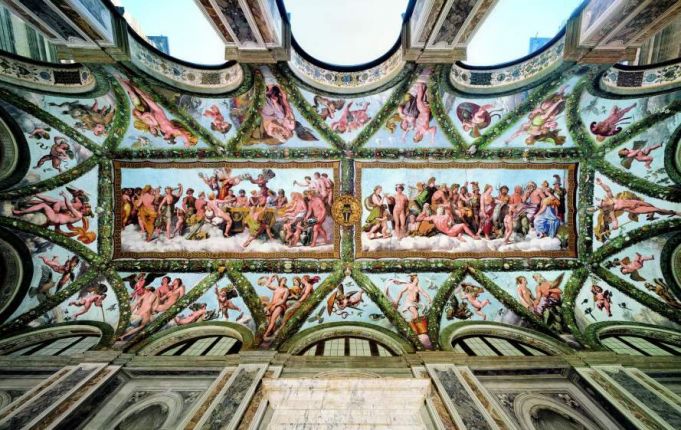 The
Loggia of Psyche by Raffaello
and his pupils is one of the many breathtaking frescoes available for viewing. The piece was recently restored and depicts episodes in the story of
Eros and Psyche
as told by Apuleius in the "Metamorphosis".
The room of Frieze, located to the left of the loggia of Psyche, features mythological scenes like the myth of Orpheus, the labours of Hercules, and Mercury with the heifers of Apollo all completed by Baldassarre Peruzzi. The Hall of Galathea holds Raffaello's renowned fresco of the triumph of the nymph Galathea in which she is on a shell being pulled by dolphins.
The villa is open from 09.00 to 14.00 from Monday to Saturday. Admission is also available every second Sunday of the month from 09.00 to 17.00. Larger groups, with a maximum of 35 people, are urged to use earphones if they seek a guided experience.
Audio guides are available in Italian, English, French, Spanish and German. Live guided tours are available on Saturdays with an English tour given at 10.00 and an Italian tour at 12.30.
General admission without an audio guide is €5 with free and reduced tickets available as well.
General Info
Address
Via della Lungara, 230, 00165 Roma RM, Italy
View on Map
Visiting Villa Farnesina in Rome
Via della Lungara, 230, 00165 Roma RM, Italy