Rome's district of Trastevere is perhaps the most lively and vibrant sector of the city in terms of nightlife. Sitting on the right bank of the Tiber river and just South of the Vatican City, Trastevere has always been considered a hotspot amongst fun-loving locals and like-minded tourists. The narrow cobblestone streets feature a wide array of bars, restaurants, and shops; providing endless entertainment for an evening out on the town.
Although most nights in the illuminated streets can be arbitrarily navigated by following aromatic smells, festive music, and moderate crowds, there are a few specific spots in the area that should top any and every list.
Aperitivo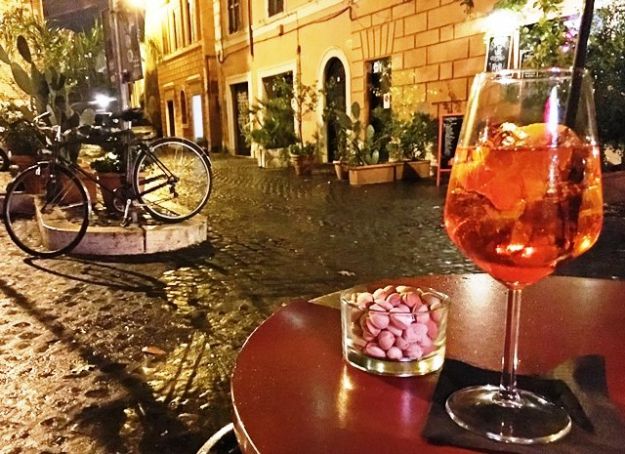 Similar to an American happy hour, aperitivo is a time in which Italians unwind at the
conclusion of a long work day with friends and drinks. The difference being that happy hour
usually symbolizes the end of the evening while aperitivo signifies the beginning. The classic
beverage of the aperitivo is the spritz which combines liqueurs like Aperol and Campari with
club soda. However, most menus will include a full list of cocktails and wines available to order.
Some drinks are accompanied by a free order of food or snacks like cheese, chips, or nuts. In
warmer months this activity is done alfresco, or in the open air, on patios and rooftops. This
makes for a truly traditional Italian aperitivo. Aperitivo menus can be found in nearly any bar or
restaurant in Trastevere but Santo , Freni e Frizioni and La Prosciutteria - Cantina dei Papi are
all great places to start as they offer tasty drink selections at a more than reasonable price.
Piazza Trilussa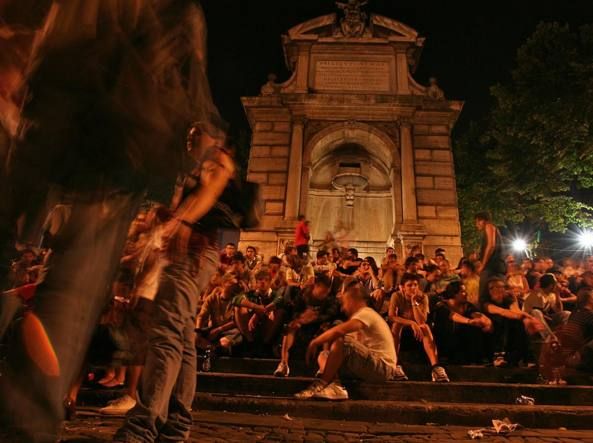 Whether you're waiting on a dinner reservation or simply looking to extend your aperitivi in a
more open atmosphere, Piazza Trilussa is the place to be. The boisterous plaza can be found in
front of the Ponte Sisto bridge, at the waterfront of the Tiber river. On warmer evenings, one
could expect to see crowds or art exhibitors, listen to live music from local street musicians, and
lounge on the staircase leading up to the fountain. A popular hangout spot for both Romans and
travellers, the square is intended to serve as a tribute to late Roman poet, Carlo Alberto Camilo
Mariano Salustri, better known as Trilussa. The fountain of Ponte Sisto sits at the back end of the square where its staircase, as previously mentioned, usually alternates between impromptu
concert seating and park benches.
Where to End Your Night (Restaurants)

After you've finished your drink (or two) and built up your appetite it's time for the main event.
Dinner typically begins and ends somewhere between eight o'clock in the evening and one
o'clock in the morning. Trastevere offers a plethora of fine dining options, trattorias, and
pizzerias that include traditional Italian cuisine. Otello is a centrally located trattoria in
Trastevere known for its generous portion sizes and budget friendly prices. Choose from an
extensive list of pastas, pizzas, and wines to get your fill on true Italian cooking. The
establishment is also known to have plentiful seating accommodations for larger groups and
special occasions. Nannarella is another hotspot of the neighborhood that often requires a
reservation to get in without an excessive wait time. It's often regarded to have some of the best
carbonara in all of Rome. A brave declaration that many pasta lovers would be more than willing
to test out.
Cover photo: Michiel Jelijs | Flickr/CC BY 2.0
General Info
Address
Trastevere, Rome, Metropolitan City of Rome, Italy
View on Map
A night out in Trastevere
Trastevere, Rome, Metropolitan City of Rome, Italy