Outdoor sculpture and installations by contemporary international artists on Rome's Palatine Hill.
19 July-3 Nov. The open-air exhibition Kronos and Kairos. The times of contemporary art takes place at various outdoor venues around the Palatine Hill and features the work of 15 important contemporary Italian and international artists.
Curated by Lorenzo Benedetti, the exhibition's title refers to the ancient Greeks' two words for time: kronos, referring to chronological time, and kairos, relating to a time for action.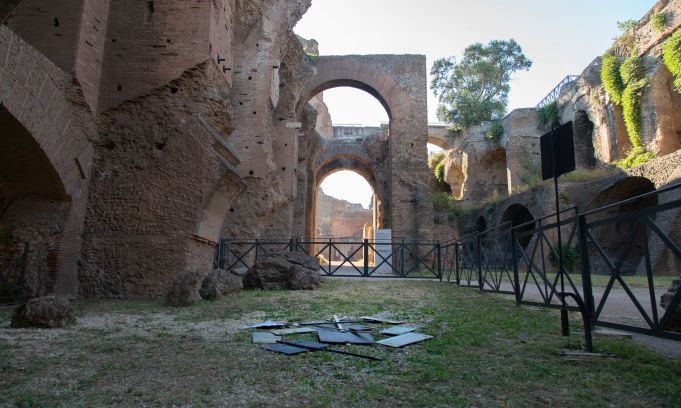 This concept of a double definition creates a bond as well as a contrast, as expressed in the site-specific works in the collective exhibition, acting as a bridge between ancient and contemporary.
The sculpture, audiovisual pieces and installations can be found among the Palatine Hill's archaeological ruins and evoke "illusion, power, myth and precariousness", according to Alfonsina Russo, director of the Archaeological Park of the Colosseum.
For the duration of the exhibition, specially-trained art history students from Rome's La Sapienza University will be on hand to answer visitors' questions about the works on display.
The exhibiting artists are: Nina Beier, Catherine Biocca, Fabrizio Cotognini, Dario D'Aronco, Rä di Martino, Jimmie Durham, Kasia Fudakowski, Giuseppe Gabellone, Hans Josephsohn, Oliver Laric, Cristina Lucas, Matt Mullican, Hans Op de Beeck, Giovanni Ozzola and Fernando Sánchez Castillo.
For exhibition details see Electa website. Cover image: Stone Foundation by Jimmie Durham.
General Info
Address
Palatino, 00186 Roma RM, Italia
View on Map
Open-air exhibition on Rome's Palatine Hill
Palatino, 00186 Roma RM, Italia