Prize-giving at Colosseum if Rome wins.
Rome mayor Ignazio Marino has proposed that medal ceremonies be held at the Colosseum if the capital wins its bid to host the 2024 Olympics.
Marino made his suggestion following a meeting with International Olympic Committee (IOC) president Thomas Bach, as well as Italian president Sergio Mattarella and Giovanni Malagò, president of Italian Olympic Committee (CONI).
Describing it as his "dream", Marino said the medal ceremonies could be presented on a rebuilt arena floor, a project which has already been backed by Italy's culture minister Dario Franceschini. The bid committee, led by former Ferrari president Luca Cordero Di Montezemolo, is also assessing whether the finals of various sports could be held at other historic sites such as the Circus Maximus.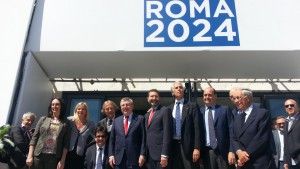 Rome had originally considered hosting the 2020 Olympics but the idea was scrapped in February 2012 by then-premier Mario Monti, over financial concerns. The proposal to bid for the 2024 Olympics was first mooted by Monti's successor Enrico Letta in 2013 but little was heard about the plans until a year later. Last December the current Italian premier Matteo Renzi announced Italy's "cost-conscious" bid for the 2024 games at the CONI headquarters in Rome.
Bach has described Italy's candidacy as "strong", with a "lot of unity, from the Italian president, to CONI, to the mayor of Rome."
The IOC will select the winning host city in 2017.
Rome hosted the 1960 Olympics as well as the World Swimming Championships in 2009 but cases of corruption surrounding the expropriation of land and the construction of the infrastructure for the 2009 championships are still in court.
Some commentators point out that the Italian capital already has some of the necessary sporting infrastructure such as the Stadio Olimpico and Olympic swimming pool, although its public transport system is far off the mark for a modern Olympic city.