Rome's Cinema in Piazza festival returns in 2023 with free films, big names and three locations.
Rome film fans can look forward to watching movies on the big screen under the stars again this summer with the return of Il Cinema in Piazza.
The ninth edition of the free festival takes place from 2 June to 16 July in three different locations.
In addition to its base at Piazza S. Cosimato in Trastevere, the festival will return to Parco della Cervelletta in Rome's eastern Tor Sapienza suburbs and Monte Ciocci park at Valle Aurelia.
Films are screened in their original language with subtitles in Italian, while Italian movies are shown with subtitles in English.
Screenings are held at 21.15, every night except Monday and Tuesday, and booking is not required.
Parte #IlCinemainPiazza dal 2 giugno con ospiti da tutto il mondo, da Ari Aster a Aronofsky, Tornatore e Gianni Morandi, Sam Rockwell, Joanna Hogg, Kenneth Lonergan, Stefano Nazzi e tanti altri.
Il programma completo della nona edizione su https://t.co/HDkY1J5G9E pic.twitter.com/w541I65RYQ

— Piccolo America (@PiccoloAmerica) May 31, 2023
Il Cinema in Piazza once again hosts a range of international special guests including Darren Aronofsky, Ari Aster, Sam Rockwell, Bertrand Bonello, Joanna Hogg, Rodrigo Sorogoyen, Jean-Pierre Jeunet, Kenneth Lonergan, Stefano Nazzi, William Oldroyd, Giulia Steigerwalt, Erik Poppe, Julie Taymor and Elliot Goldenthal, and Julien Temple.
The festival opens on 2 June, a national public holiday in Italy for Festa della Repubblica, with an event dedicated to the celebrated composer Ennio Morricone who died in Rome three years ago.
The Oscar-winning director Giuseppe Tornatore will introduce his film Ennio, accompanied by veteran crooner Gianni Morandi, in Piazza S. Cosimato at 21.15.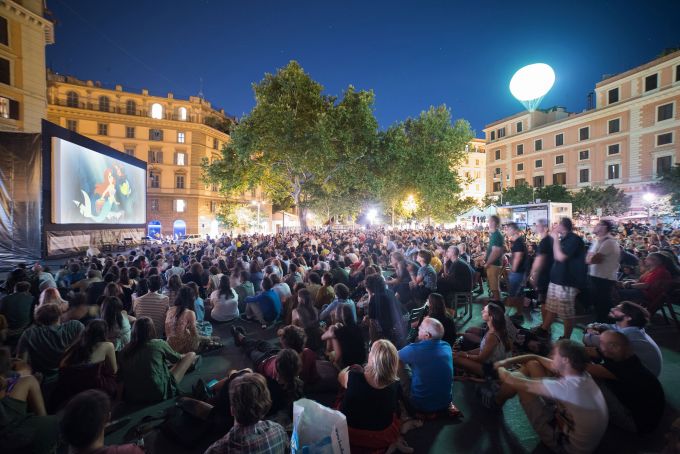 There will also be tributes to Ingmar Bergman, Suso Cecchi D'Amico, John Ford, Greta Gerwig & Noah Baumbach, John Landis, Hirokazu Kore'eda, Steven Soderbergh, Denis Villeneuve.
For children there are Looney Tunes and Animation (screened in Italian with subtitles in English), with "marathons" dedicated to Back to the Future and Ghostbusters.
The festival is organised by Piccolo Cinema America - an association of young film enthusiasts led by president Valerio Carocci - which opened the refurbished, state-of-the-art Cinema Troisi in 2021.
For the last nine years the festival has punched above its weight to reel in some of the top names in Italian and international cinema as guests, in addition to screening a diverse range of movies.
The festival dates for the three venues are as follows: Piazza S. Cosimato 2 June - 16 July,
Cervelletta 8 June - 16 July, and Monte Ciocci 10 June - 16 July.
The full programme is available on Il Cinema in Piazza website.
General Info
Address
Piazza di S. Cosimato, 00153 Roma RM, Italy
View on Map
Cinema in Piazza: Rome's free film festival under the stars
Piazza di S. Cosimato, 00153 Roma RM, Italy