Works to take 10 years and cost €700 million.
Rome opened the construction site for the Metro C underground station in the central Piazza Venezia on Thursday, in a €700 million project set to take 10 years to complete.
Italy's transport minister Matteo Salvini and Rome mayor Roberto Gualtieri inaugurated the works to build the station which will have eight underground levels and reach a depth of 45 metres.
The new station is seen as a challenge from both an engineering and archaeological point of view, resulting in its estimated completion date a decade from now and its record cost, far above the average €100-150 million price tag for an underground station, reports state broadcaster RAI.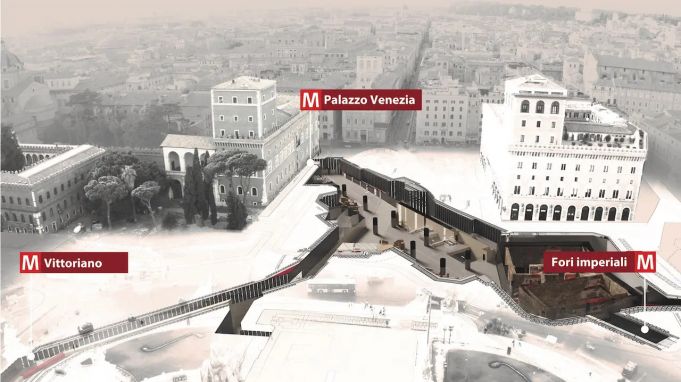 Gualtieri said that "everything would be done" to bring forward the scheduled opening date of 2033, adding that the preceding Metro C stations at Metronia and Fori Imperiali would be ready by December 2024, opening to commuters in March 2025.
The subway station is to become an archeo-stazione, similar to San Giovanni, with the first level hosting archaeological artefacts expected to be found during excavations.
Oggi abbiamo dato il via al cantiere per la costruzione della #StazioneVenezia della #lineaC. Questo progetto rappresenta una delle sfide più ambiziose del sistema metropolitano mondiale, unendo passato e futuro in un'unica eccezionale infrastruttura.https://t.co/4cZqwXR3wI pic.twitter.com/KV9rsEo7Ve

— Roberto Gualtieri (@gualtierieurope) June 22, 2023
"This station in the archaeological heart of the city will have a unique value in terms of knowledge of Rome's immense heritage" - said Gualtieri - "It will be a station but also an unprecedented museum hub."
The underground station will be located in the centre of Piazza Venezia, with three entrances, and will be equipped with six elevators and 27 escalators.
The driverless 19-km Metro C line currently comprises 22 stations and runs from Pantono in east Rome to San Giovanni, where it connects with Metro A and the central Termini train station.
With the opening of the Fori Imperiali station in 2025 - in front of the Colosseum - the Metro C line will connect with the Metro B station at Colosseo.
The Metro C project has been beset with difficulties since it started three decades ago, from massive funding overspends to lengthy delays due to red tape and the discovery of archaeological remains.
Photos Metro C Spa
General Info
Address
Piazza Venezia, Roma RM, Italy
View on Map
Rome starts work on Metro C station in Piazza Venezia
Piazza Venezia, Roma RM, Italy