Michelangelo's Florence Pietà is being restored in full view of visitors.
Michelangelo's Bandini Pietà is to be restored in full view of visitors to the Museo dell'Opera del Duomo, Florence's cathedral museum, in a six-month restoration process beginning on 23 November.
Commissioned by the association Opera di S. Maria del Fiore, the conservation project is being financed by the philanthropic group Friends of Florence, and is expected to be completed by summer 2020.
Central to the restoration of the marble sculptural group, on which Michelangelo worked from 1547 to 1555, is the removal of centuries of accumulated grime and candle wax, as well as dealing with discolouration resulting from a cast made of the work in the late 19th century.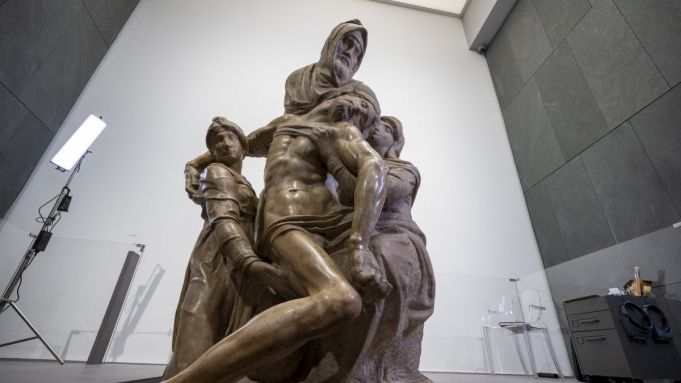 Led by conservator Paola Rosa, experts will also evaluate past damage and previous repair works, including the insertion of iron rods, according to a report by The Art Newspaper.
For the duration of the restoration, visitors wil be able to observe restorers at work on a specially-built stage installed around the base of the sculpture which was completed when the Italian High Renaissance master neared the age of 80.
Also known as The Deposition or the Bandini Pietà, the work depicts Jesus after his descent from the cross, supported by the Virgin Mary, Mary Magdalene and an aged Nicodemus, who bears a resemblance to Michelangelo himself.
In a fit of frustration, the artist famously destroyed sections of the sculpture - which he left unfinished - due to the flawed quality of the marble.
Timothy Verdon, director of the Museo dell'Opera del Duomo, told The Art Newspaper: "Michelangelo's other statues were carved in good Carrara marble, but this is bad Carrara marble."
Cover photo Finestre sull'Arte
General Info
Address
Piazza del Duomo, 9, 50122 Firenze FI, Italy
View on Map
Florence restores Michelangelo's Pietà in public
Piazza del Duomo, 9, 50122 Firenze FI, Italy