Your Taxi in Rome. Cooperativa Samarcanda. Fixed prices. All credit cards accepted. Wi-Fi on board.
It was May the 1992 when, in Rome, eleven taxi drivers signed the "Memorandum of association" of "SAMARCANDA Service" (06/5551).
The choice of the name was not random. The magnificent city well depicted the idea of the eleven founding members. "Samarcanda" was in fact known in ancient times with the name of "Eastern Rome", (Roma d'Oriente), destination of dreams and beautiful journeys. Crossroads of intense trade, constituted a tangible example of the peaceful coexistence of different races, religions and customs very different from each other. Catching the cultural and market opportunities, meant having a peaceful coexistence, opening towards the "diversity" of productive efficiency.

Samarcanda (065551), is therefore a desire to improve, it is a journey towards improvement.
Our symbolic element is a flight towards the horizon. We keep spending all our energies to achieve new objectives.


Today Samarcanda (06/5551) offers an "enterpreneurial ability", orientated towards customers.
Members can take advantage of an efficient internal mutual aid, an effective tool to balance the hard work not as protected as it should be. The strong participation of our members in these processes produces a greater awareness and emancipation of the individual, able to build a daily professional growth. Social commitment and "nature protection" are proof that "quality" is travelling in a taxi!
Wanted in Rome card offers: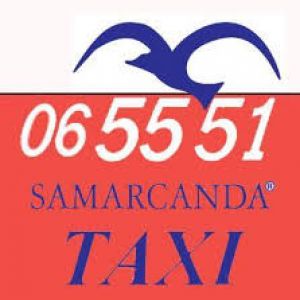 Save €3 on the Rome - Fiumicino airport transfer
Taxi service to Fiumicino Airport  € 3,00 discount with the Wanted in Rome Card. When calling 065551 to book a taxi please tell the operator you are a cardholder.  Services availabe: - WIFI on b...
General Info
Address
Via della Magliana Nuova, 203, 00149 Roma RM, Italia
View on Map
Samarcanda Taxi 065551
Via della Magliana Nuova, 203, 00149 Roma RM, Italia