Italy remembers the horrors of the Holocaust 78 years after the liberation of Auschwitz.
Italy marks International Holocaust Remembrance Day on Friday with hundreds of commemorative events on the 78th anniversary of the liberation of the Auschwitz-Birkenau extermination camp.
Established by the United Nations to commemorate the day in 1945 that the survivors of Auschwitz were liberated, the initiative honours the memory of the millions of Jews – but also homosexuals, Romany people and others – who suffered persecution, deportation, imprisonment and genocide.
The Italian senate marked the Giorno della Memoria by inviting Holocaust survivor Sami Modiano, 92, to speak to school children at Palazzo Madama.
Footage of Modiano's tearful testimony has been published on the senate's social media channels.
Born in 1930 on the island of Rhodes, when it was under Italian occupation, Modiano was deported with his father Jacob and his sister Lucia to Auschwitz in 1944. He was the only one of his family to survive.
Modiano returned to Auschwitz for the first time in 2005 and since then has dedicated himself to educating others, including school children, with his testimony.
On his 90th birthday he was awarded the Knight Grand Cross of the Order of Merit of the Italian Republic, the highest honour for an Italian citizen.
Stolpersteine
Over the last few weeks, new stolpersteine Holocaust memorial stones have been installed in Rome, Milan and cities across Italy.
The bronze-capped cobblestones, whose name translates as "stumbling stones", are part of a major European-wide project begun by German artist Gunter Demnig in 1997.
The memorials are laid outside the last chosen place of residence of victims of the Holocaust, listing their names, date of birth, date and place of deportation, and - in most cases - their date of death in a Nazi extermination camp.
Milan
Milan's Giorno della Memoria programme was presented this week by the mayor Beppe Sala alongside Italian senator and Holocaust survivor Liliana Segre, 92.
The city announced that 26 new stolpersteine were laid in various districts, bringing the total number in Milan to 171.
"There is even a stolperstein for a baby who was deported the day after he was born" - Segre said - "In front of that innocent baby, the whole world must bow down and say: 'never again!'"
Segre, who was deported to Auschwitz with her father when she was 13, expressed fears that within a few years history books will devote just "a line" to the Holocaust "and then not even that", stressing: "The danger of forgetting is always there."
One of the few Italian Jewish children to survive deportation to a Nazi death camp, Segre was made a senator for life in 2018, an honour in tribute to her years of speaking about the horrors of the Holocaust.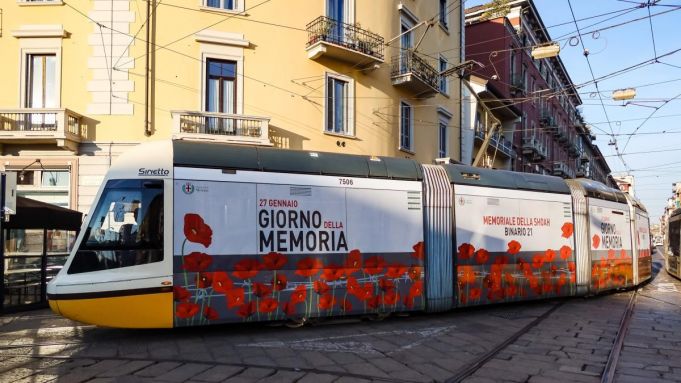 Milan also unveiled a Giorno della Memoria tram decorated with images of poppies and barbed wire, an initiative pushed for by Segre for many years.
The tram stops at Stazione Centrale, home to a Holocaust memorial on Binario 21, the platform from which Segre and her father were deported to Auschwitz on 30 January 1944.
When they arrived in the concentration camp the young Liliana was separated from her beloved father who she never saw again.
He was murdered by the Nazis on 27 April 1944 and is remembered in Milan today with a stolperstein on Corso Magenta 55.
Rome
In Rome there were 38 new stolpersteine installed in various areas around the city including in the Jewish Ghetto.
The capital now has 374 stolpersteine, dedicated to those who were either deported to Auschwitz or killed in the Fosse Ardeatine massacre.
Commemorative events in Rome include the Zakhor/Ricorda project, curated by Giorgia Calò. Six municipal museums host video installations by six contemporary Israeli artists, inviting spectators to reflect on one of the darkest pages of history.
Zakhor/Ricorda, i musei civici di Roma e la memoria attraverso l'arte. In occasione delle celebrazioni per il #GiornoDellaMemoria2023 del #27gennaio, Roma Capitale racconta il dramma della #Shoah attraverso le video installazioni di 6 artisti israeliani https://t.co/DWqfKn0y6O pic.twitter.com/vZgu2GiMw4

— Roma (@Roma) January 18, 2023
The Casina dei Vallati in the Jewish Ghetto district will host L'inferno nazista. I campi della morte di Belzec, Sobibor e Treblinka, a multimedia exhibition curated by Marcello Pezzetti.
The lead-up to the Giorno della Memoria in Rome was marred by the appearance around the capital of stickers with Adolf Hitler dressed in a Roma football shirt, an incident condemned strongly by the city's mayor Roberto Gualtieri.
For Rome events commemorating the Giorno della Memoria see Roma Capitale website, for Milan events see Comune di Milano website. Photo credit: Only Fabrizio / Shutterstock.com.