The founder of Rome's Comedy Club is Marsha De Salvatore from Ohio.
When and how did Rome's Comedy Club begin?
In 2009, I was directed by Matthew Reynolds in a Gaby Ford English Theatre of Rome monologue show and we started talking about how I wanted to try stand-up and he said: "If you wanna do it, start it." In this same show I met Stephanie Tyrrell who was up for a new project, and so began Rome's Comedy Club. From a small, barely 20-30 person room upstairs in the Abbey Theatre pub to Skène, a restaurant-theatre space that holds almost 100 people, this project has become an amazing and gratifying experience, not only for myself as a performer but also to watch others grow as a comics.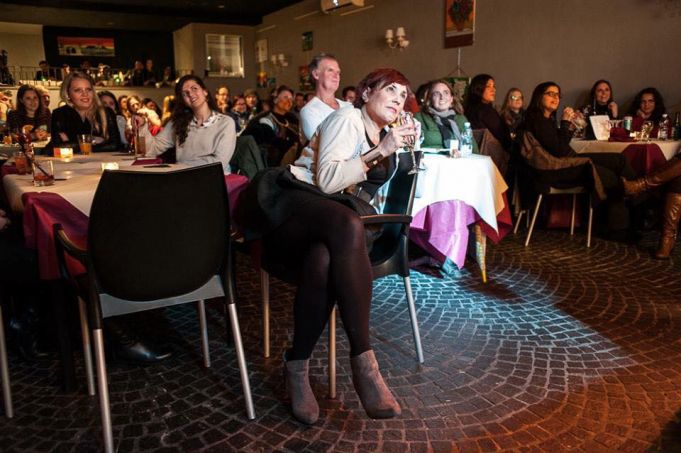 How many regulars are in the RCC team and is there a frequent turnover of comedians?
My regulars have been Michael Monkhouse and Francesco De Carlo from the beginning, then Ryan Costello, Gabriel Gougsa and Liz Knight in the last few years, with recent additions Hilary Bockham, Denise Mc Nee and José Salgado. There have been many other performers such as Kissy Dugan and Virginia Apicella who have since taken a break, as well as RCC co-founder Stephanie Tyrell who returned to the UK. The show gets a regular audience with 50 per cent of the same people coming back each month, meaning that comics can't repeat their material. A regular audience is a major bonus because the atmosphere is like a big party with people you feel comfortable with, which makes it easier to do our job as comics.
Do many visiting comics participate?
I get contacted all the time by comics and their agents all over the world but the costs of the trip is what stops most of them coming. Some are happy to have a holiday and do some comedy so I get quite a few comedians from outside Italy. The upcoming shows will feature some from the UK.
Does RCC ever collaborate with Italian comedy clubs?
No. They are a closed circle. The comics at RCC are all keen on doing comedy in Italian, so there could be an RCC show in Italian coming up soon.
What are your future plans for the club?
One more show for the season and a new comedy clip coming up. In the works is an RCC web series and some shows in the summer.
Andy Devane
This interview appeared in the 1 April edition of Wanted in Rome.
General Info
Address
Skené, Via Francesco Careletti 5, tel. 065755561
View on Map
Marsha De Salvatore interview
Skené, Via Francesco Careletti 5, tel. 065755561