24 March. The Joel Nafuma Refugee Center (JNRC) at the American Episcopal Church of Rome, St Paul's Within the Walls, is holding a Lebanese fundraising event with a home-cooked Lebanese dinner on 24 March, from 19.00-22.00.
Suggested donation for adults is €20, students €15 and €10 for children. RSVP to events@jnrc.it.
For those who cannot attend but would like to make a financial contribution, see website.
Located in the crypt of St Paul's, the JNRC was founded in 1995 and welcomes more than 200 guests each weekday, from 08.30 to 14.00.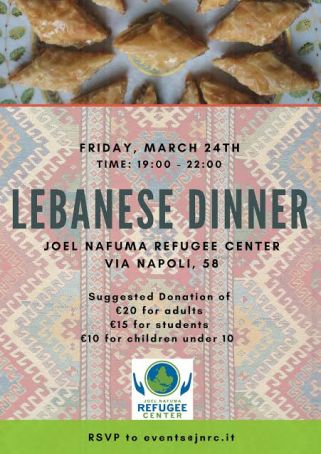 For details of the Lebanese fundraiser, including background about the Lebanon-Syria crisis, see Facebook event page, while for more information about the JNRC see its website.