29 April-3 June. Galleria Varsi presents The Backwaters. Stories from the Endless Suburbia, a new exhibition by Australian street artist Fintan Magee. "Everyone has a story worth telling. Be tolerant and understanding of others", says Magee, who draws on his childhood memories to take us on a journey back to Brisbane in the 1990s.
Known internationally for his large-scale murals in galleries and street art festivals around the world, including Indonesia, Colombia, Russia and the US, Magee harks back to a childhood era, inserting into his works characters from a marginalised urban context, suspended between dream and reality.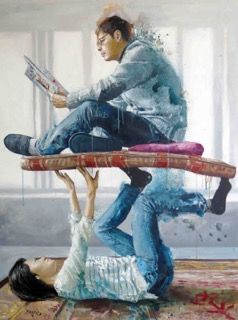 The exhibition at Varsi includes Magee's works on paper, mixed media canvases and sketches, alongside a life-size plaster sculpture of child who has accidentally fallen off his bicycle. Magee depicts abandoned objects and places to highlight topics such as the environment, migration and social exclusion. Coinciding with the exhibition, Magee will undertake a mural in the disadvantaged west Rome suburb of Primavalle.
Since it opened in May 2013, Varsi has firmly established itself as a dynamic and well-organised gallery that hosts regular exhibitions by noted Italian and international street artists. Located near Campo de' Fiori, the initimate art space is completely transformed for each show, giving artists the freedom to create unique installations.
For full exhibition details see website.