Love meets social media in this dynamic exhibition at Chiostro del Bramante, from 29 September-19 February.
Review by Andy Devane.
29 Sept-5 March. Rome's Chiostro di Bramante celebrates its 20th anniversary with LOVE. L'arte contemporanea incontra l'amore, a major exhibition dedicated to contemporary art and the multiple interpretations of the universally popular theme of love. The colourful show includes works by artists of the calibre of Yayoi Kusama, Tom Wesselmann, Andy Warhol, Robert Indiana, Gilbert & George, Francesco Vezzoli, and Tracey Emin.
Organisers describe the exhibition as a "360° sensory experience", granting visitors access throughout the museum with full permission to photograph all the exhibited works, before sharing their images via the official hashtag #chiostrolove. Guests can also choose between five "audio partners" (John, Coco, Amy, David or Lilly) to guide them around the pink-carpeted exhibition whose curator Danilo Eccher states that "art is always a great declaration of love."
Appropriately, visitors are greeted with two Pop Art Love sculptures by American artist Robert Indiana who forged a hugely successful career from the four letters, arranged in a square with a tilted "O". Tom Wesselmann's coloured vinyl Smoker epitomises his erotically-charged Pop Art; Francesco Vezzoli generates a smile with his playful marble Self Portrait as Apollo del Belvedere's (Lover); Andy Warhol provides a Multicoloured Marilyn; while Tracey Emin's neon signs, including My Forgotten Heart, illuminate the corridor walls.
Then there is the kaleidoscopic Union Jack-themed Metalepsy by Gilbert & George, the British artist duo famed for their monumental designs which focus on racial, political and religious tensions.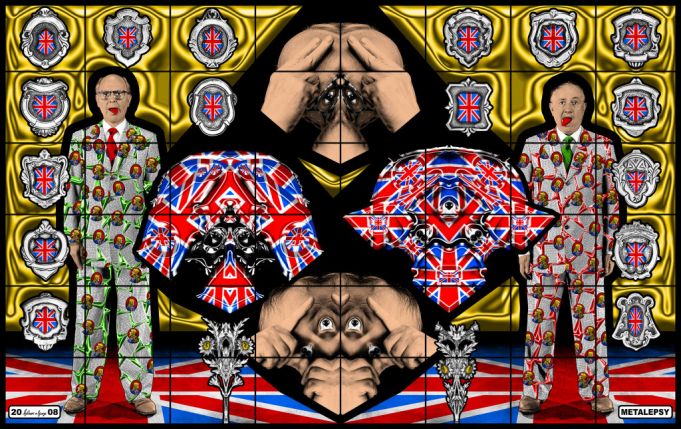 However the absolute highlight of the show is All the Eternal Love I Have for the Pumpkins – among the most Instagrammed images in the world – by Yayoi Kusama, considered Japan's most important living artist. The reclusive 87-year-old describes herself as an "obsessive artist" whose work incorporates elements of conceptual art, Pop Art and abstract expressionism, to name but a few.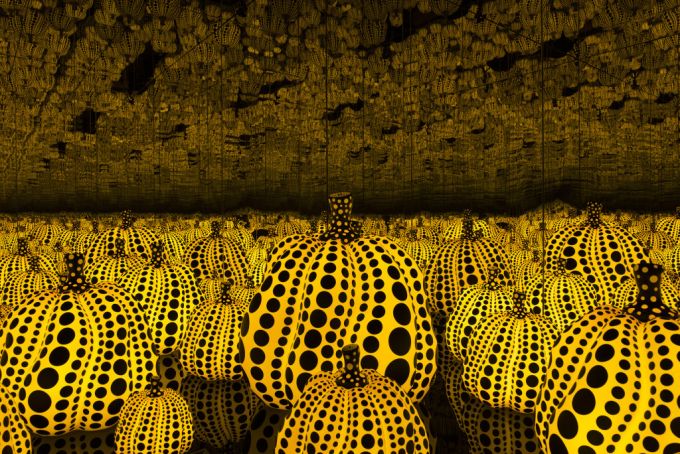 Her installation at Chiostro del Bramante offers visitors a Narnia-style trip to a psychedelic land of infinite mirrors reflecting a miniature field of bright yellow and black pumpkins. Due to the confined space, single visits inside the room are limited to a maximum of 30 seconds, before returning (sadly) to the real world.
Towards the end, visitors are provided with coloured markers and encouraged to leave their own declaration of love on specially-designated walls, a fitting finale to this vibrant, feel-good exhibition.