Chiostro del Bramante stages Dream. L'arte incontra i sogni
The Chiostro del Bramante in Rome presents Dream. L'arte incontra i sogni, an enchanting exhibition of dream-themed art works, guiding viewers on a "physical, surreal, mental and dreamlike journey" through site-specific installations by major international artists, until 25 August.
The exhibition completes the trilogy of shows curated by Danilo Eccher, begun with Love in 2016 and Enjoy last year, both of which attracted large crowds. The works on display in the latest exhibition provide a glimpse into the fascinating world of dreams, which Eccher describes as the key to understanding the "vast and profound territories of the soul."
Dream's contemporary artists include heavyweights from the world stage such as Anselm Kiefer, Mario Merz, Christian Boltanski, Kate MccGwire, Anish Kapoor, Bill Viola, Luigi Ontani and James Turrell.
The show's dreaminess factor is enriched further by an audioguide with mellifluous, lullaby-like reflections on the exhibited works, composed specially by writer and director Ivan Cotroneo, with voices supplied by actors including Alessandro Preziosi and Giulia Bevilacqua.
Entering the museum's cloister, visitors are confronted first with the contemplative Chloe's World, a monumental work by Spanish artist Jaume Plensa, celebrated for her slender heads of young girls, peaceful in their dreams, created from polyester resin and marble dust.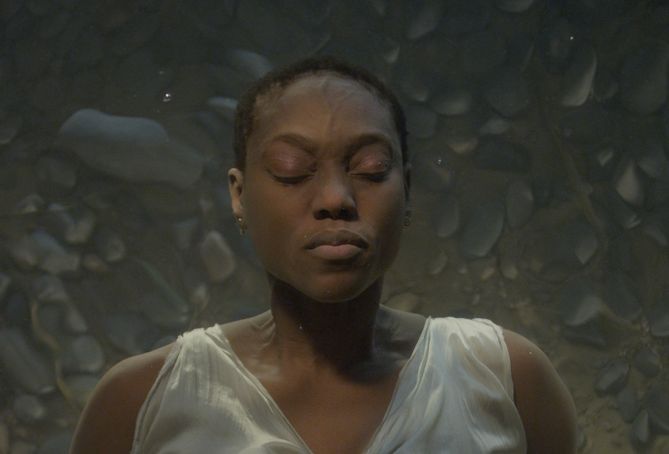 Ducking inside under a black felt curtain, and then another, viewers face Sharon by Bill Viola, widely regarded as a pioneer of new media art. Viola's "moving portrait" depicts Sharon, eyes closed and fully dressed, while moving slowly under water, as if in a trance. In the same way that even the strangest dreams often make sense at the time, it is clear that Sharon is not in danger of drowning, rather she is at home in this amphibious environment, and the effect is captivating.
Further on, the show delves into the darker side of dreamland with Le Théâtre d'Ombres by French conceptual artist Christian Boltanksi. Two peep holes provide a peek into a tiny room whose back wall is enlivened by the macabre silhouettes of dancing skulls and devilish skeleton-characters.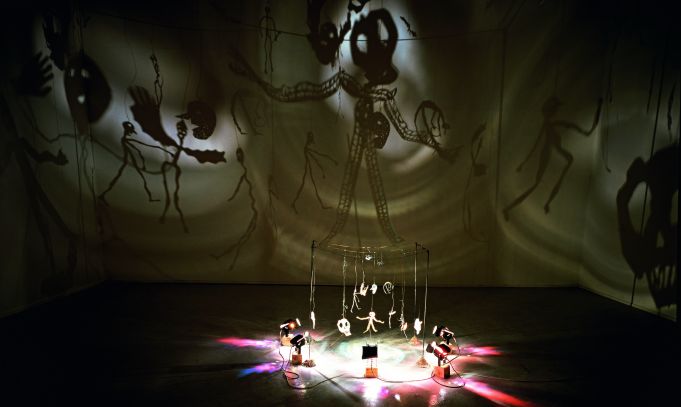 A raised walkway meanders past a tree, suspended eerily in thin air, roots and all, by Swedish artist Henrik Håkansson, while underneath are miniature mounds of rice by Germany's Wolfgang Laib, as if a babbling brook frozen in time; followed in turn by red and white wax-like alabaster works by British-Indian sculptor Anish Kapoor.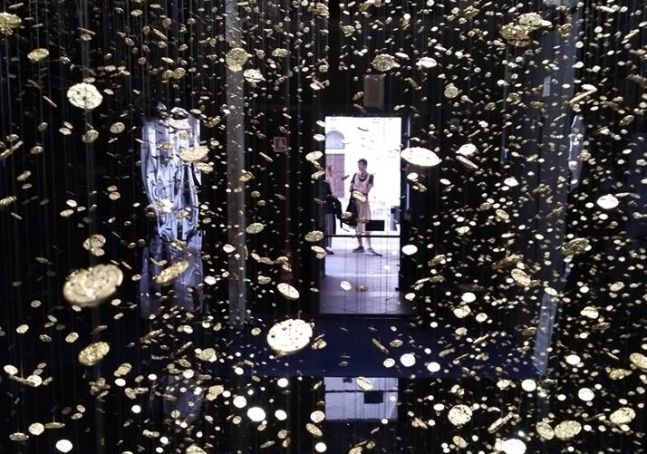 The adjoining high corridor houses a highlight of the show: Light is Time, the award-winning installation by Japanese architect Tsuyoshi Tane, featuring thousands of main plates – the basic component of a watch. Visitors walk through countless semi-visible strings of shimmering gold discs, dangling from the ceiling, their sparkling ebb and flow controlled by fluctuating lights.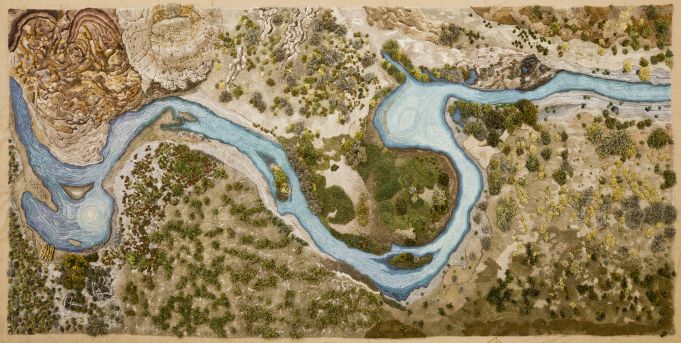 Another treat awaits in the winding stairwell, now cave-like, its walls padded heavily with soft woven carpets and hand-tufted rugs, brown and green, giving the impression of entering a fairytale forest. This naturalistic work is What if all is by Argentinian artist Alexandra Kehayoglou, whose rich tapestries recall the grasslands and waterways of Patagonia.
The unexpected nature trail eventually leads into the spirally, doodly universe of Austrian artist Peter Koger whose mesh of stripes and knotted lines distort space and leave the viewer almost dizzy.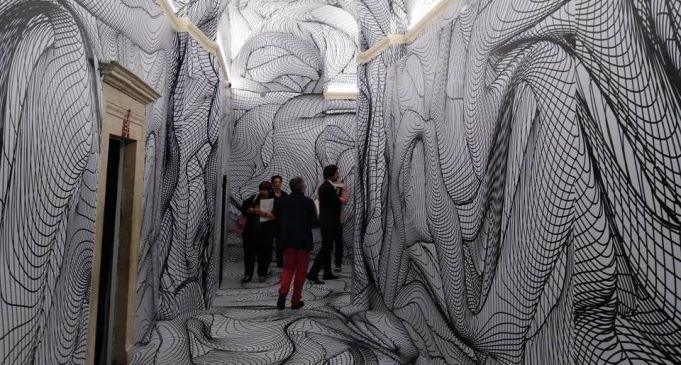 Squeezing through a low door, visitors find themselves in a bedroom by Luigi Ontani, one of Italy's most innovative artists; the bed's headboard contains one glowing eye, the purple walls are dotted with coloured masks.
The ceiling in the adjoining room hosts Time Sky, a series of flashing numbers by Japan's Tatsuo Miyajima, while the exhibition ends with Sensing Thought, by Californian artist James Turrell, a hypnotic installation which bathes the viewer in deep ultramarine and indigo light. It is a fitting conclusion to this dream-like art experience which visitors will leave as if emerging from a curious and confusing slumber.
Like all intense dreams, the impact of this exhibition lingers long after waking.
Review by Andy Devane
Dream: L'arte incontra i sogni is at Chiostro del Bramante until 5 May 2019.
Wanted in Rome card offers: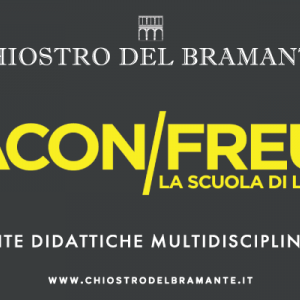 Save €2 on entry ticket at Chiostro del Bramante
The Chiostro del Bramante is a nationally and internationally point of reference for contemporary art. For Wanted in Rome card holders a € 2,00 discount on the price ticket € 14,00 (including audiog...
The Chiostro del Bramante is a nationally and internationally point of reference for contemporary art.
For Wanted in Rome card holders a € 2,00 discount on the price ticket € 14,00 (including audioguide) and an exhibition poster for free (5€ value)
Opening hours: Monday to Friday 10.00 – 20.00 / Saturday to Sunday 10.00 – 21.00
General Info
Address
Arco della Pace, 5, 00186 Roma RM, Italy
View on Map
Dream-themed exhibition at Rome's Chiostro del Bramante
Arco della Pace, 5, 00186 Roma RM, Italy