Rome metro: Roma Metropolitane to go into liquidation
Opening of Rome's Metro C station at Roman Forum slips to 2024.
Roma Metropolitane, the company overseeing the construction of Rome's Metro C project, will go into a "controlled liquidation", however Metro C is "not at risk" according to the city's mayor Virginia Raggi.
Speaking during a heated session at city hall on 3 October, Raggi stated: "Roma Metropolitane is not balanced in terms of management or finances. Over the years, repeated injections of public money or recapitalisation have been necessary: each year the company burns €6 million, so recapitalisation wasn't an option because it's a vicious circle."
Saying it was important to steer clear of "alarmism", the mayor clarified: "Infrastructure works in construction or design such as Metro C will go ahead and are not at risk." Raggi said that Roma Metropolitane employees will be offered work in other municipal companies.
Metro C station at Roman Forum
The opening of the Metro C station at the Fori stop near the Colosseum has now slid from December 2022 (originally scheduled for September 2020) to the beginning of 2024.
Works are currently taking place to connect the Fori station to the existing Colosseo station on the B line, resulting in the early closure of 13 metro stations each night until December and over several weekends.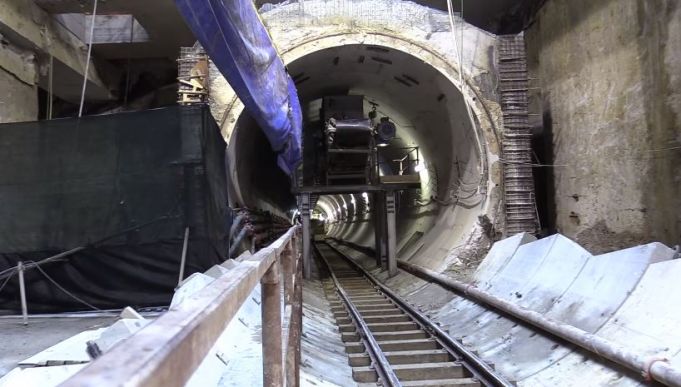 Italian newspaper La Repubblica reported on 4 October that the tunnel boring machines, used for the excavation of Metro C, are to be buried under Via dei Fori Imperiali, without reaching the proposed station at Piazza Venezia.
History of Metro C
The Metro C line was originally meant to run from Pantano, in the eastern suburbs, across Rome's historic centre to a new station near the Vatican and even beyond to Piazzale Clodio. However, since the project began in 1990, it has been beset with difficulties. These have included funding overspends, lengthy delays and the abandonment of planned stations across the historic centre caused by the discovery of archaeological remains underground.
In 2014 Italy's audit court accused the project's consortium of cost overruns that were neither accounted for nor agreed, on the Pantano-Centocelle section. The court said that over €360 million of public funds were wasted between 2006 and 2010, and that the system was "designed to reward delays."
In 2012 the court's president Luigi Giampaolino said that Metro C seemed set to become "the most expensive and slowest public works project in Europe and the world." Since construction began 29 years ago, the cost of the project has risen from €1.9 to over €5 billion.
Metro C today
The driverless 19-km line currently comprises 22 stations and runs from Pantono in east Rome to S. Giovanni, where it connects with Metro A and the central Termini train station. With the opening of the Fori station, Metro C will connect with Metro B.
General Info
Address
Via la Spezia, 00182 Roma RM, Italy
View on Map
Rome metro: Roma Metropolitane to go into liquidation
Via la Spezia, 00182 Roma RM, Italy