Motorist drives down Villa Borghese staircase
Driver of Fiat Panda said he was in a hurrry.
A motorist was photographed driving his Fiat Panda 4x4 down the staircase connecting Villa Borghese park with Valle Giulia on the morning of 3 May.
The driver, who allegedly explained to a passerby that he was "in a rush and the road is blocked", descended the steps onto Viale delle Belle Arti.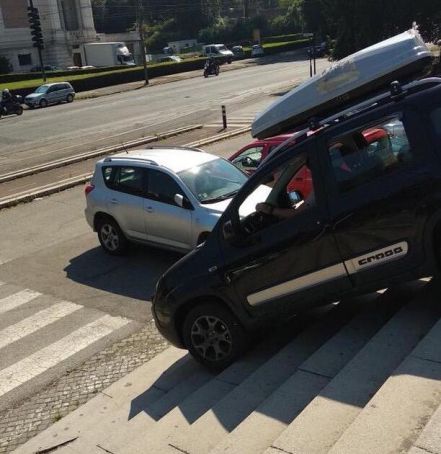 The staircase, which dates to 1911 and is dedicated to Italian architect Bruno Zevi, is located opposite the Galleria Nazionale Moderna d'Arte (GNAM).
A report of the incident was sent to Rome's traffic police who succeeded in tracking down the motorist, reportedly a 47-year-old Roman citizen resident in Milan.
The case comes a few weeks a 70-year-old motorist from the Netherlands accidentally drove down the steps leading to the EUR Magliana metro station.
General Info
Address
Viale delle Belle Arti, Roma RM, Italia
View on Map
Motorist drives down Villa Borghese staircase
Viale delle Belle Arti, Roma RM, Italia