Outdoor street art Festival in Rome
2-31 Oct. Under the theme Here Now, the sixth edition of the urban art festival Outdoor is based at a 30,000-sqm disused military barracks on Via Guido Reni, near the Museo Nazionale delle Arti del XXI secolo (MAXXI), in the Flaminio district of Rome.
Throughout October the building's long-abandoned rooms and corridors will be decorated with site-specific installations by 17 street artists from eight countries, with the collaboration of seven embassies and foreign cultural institutes in the capital: the British Council, Institut Francais, Spanish Academy, and the embassies of Brasil, Greece, Netherlands and Norway.
Once again international artists have been invited to leave their mark on Rome, each offering a unique interpretation of public space and all working together to transform the city. The festival continues its quest to promote Rome as a centre of urban art and contemporary culture, an event that is developed through art, music, video and discussion.
This year's festival is characterised by the interactive work of artists such as 2501, Recipient, and The blind eye factory; abstract forms by 108, chaotic imagery by Turin's Italian-Filipino artist Halo halo; the decontextualisation of Filippo Minelli and the study of memory by Lucamaleonte.
The sacredness and impulsive acts of Tilt, and reflections on the ephemeral and cyclical nature of urban art by Norwegian stencil and street artist Martin Whatson. The flow of time in the work of British artist Insa, and the isolation of the individual in the work of Brazil's Tinho; the recovery of objects found in the barracks and elevated to works of art by Greek artist Alexandros Vasmoulakis; the deconstruction and remodelling of spaces by Graphic surgery; the distortion of perspective by Rub Kandy; the alienation created by Penique Productions, and the use of space to reflect on events by No Idea.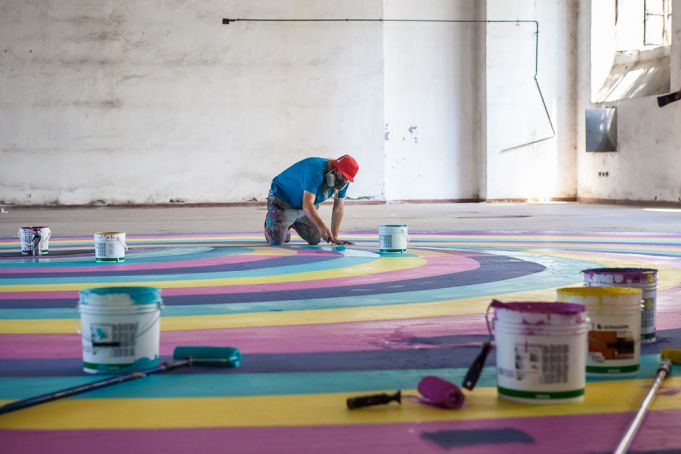 There is also a project by the Rome-based American photographer Jessica Stewart who documents the Roman scene through the work of street artists Alice Pasquini, Uno and Tommaso Garavini. The Flaminio site can be visited each weekend, Fri-Sun, from midday to midnight, and visitors can also enjoy related events including guided tours, live music and street food. A highlight for music lovers is UK Night by Dusky, a duo of London DJs Nick Harriman and Alfie Granger-Howell, with a live set on 31 October. Since the festival began six years ago, certain Roman districts such as S. Lorenzo, Garbatella, S. Paolo and Ostiense have been transformed by urban art.
For full programme and more information on participating artists, see festival website.