30 March-27 April. Il Lavatoio Contumaciale and the Fondazione Filiberto Menna present Elogio della Fragilità, featuring the work of artists Elena Bellantoni, Davide Dormino and Oscar Turco who each confront the theme of fragility.
The exhibition, a fruitful alliance between art and literature, is inspired by the book Elogio della Fragilità (Praise of Fragility) by Roberto Gramiccia.
The exhibition is part of the Transfusioni project established by Bianca Menna, created and led by Anna D'Elia, in collaboration with Silvia Stucky and Paola Romoli Venturi.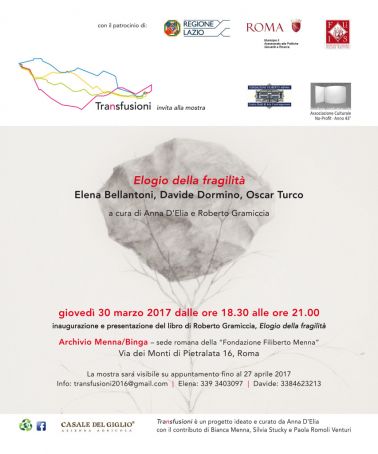 The opening takes place on 30 March at 18.30 and the show can be visited by appointment until 27 April.
For further details contact transfusioni2016@gmail.com.