4-8 Nov. The Rome Savoyards and Plays in Rome present Dogg's Hamlet, Cahoot's Macbeth by Tom Stoppard, two plays written to be performed together, directed by Sandra Provost.
In Dogg's Hamlet actors speak a language called Dogg, consisting of ordinary English words but with meanings completely different from the ones we assign them. Starring Ian Sutton, Lydia O'Kane, Harry McCrory, Eddie Zengeni, Michael Fitzpatrick, Gabriella Spadaro, Helen Raiswell, Edoardo Camponeschi, Michael Gilmartin.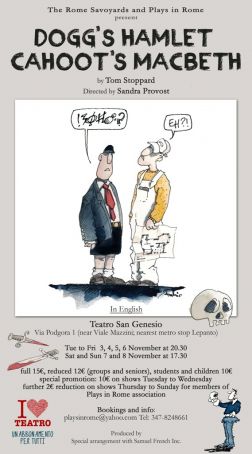 Cahoot's Macbeth involves a shortened performance of Macbeth carried out under the eyes of a secret police officer who suspects the actors of subversion against the state. With Bruce McGuire, Shelagh Stuchberry, Rick Breco, Jim McManus, Patricia Standingford, Grant Thompson, Fabiana De Rose, Eddie Zengeni.
For bookings and info email fabianaderose72@gmail.com or playsinrome@yahoo.com or tel. 347/8248661.