2-7 Feb. The Rome Savoyards and Plays in Rome stage a production of this Shakespearian pastoral comedy, 400 years after the death of The Bard.
Thought to have been penned in 1599, the play follows Rosalind and her cousin Celia who leave behind their lives in the court and journey into the Forest of Arden.
It is here that Rosalind is liberated from the convention of her former life. Disguising herself as a boy, she embraces a different way of living and falls spectacularly in love.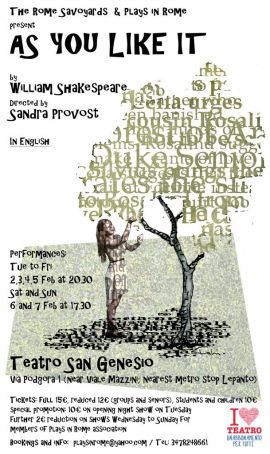 2-5 Feb 20.30. 6-7 Feb 17.30. Directed by Sandra Provost. In English.
For bookings and info email playsinrome@yahoo.com or tel. 347/8248661.