4-9 April. Michael Fitzpatrick directs The Secret Rapture by British playwright David Hare, presented by Wonderwall Entertainment by special arrangement with Samuel French.
When their antiquarian bookseller father dies, Marion and Isobel return to their country home to attend to family matters, including dealing with their younger step-mother, Katherine.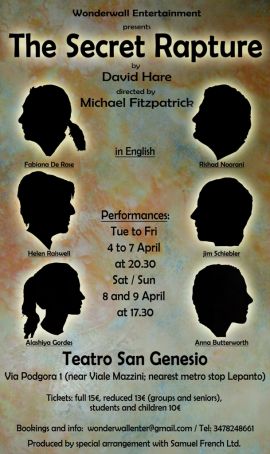 The cast, in order of appearance, comprises Fabiana De Rose, Helen Raiswell, Jim Schiebler, Alashiya Gordes, Rishad Noorani, and Anna Butterworth.
Tue-Fri 4-7 April 20.30, Sat-Sun 8-9 April 17.30. In English. For info and reservations contact wonderwallenter@gmail.com or tel. 347 / 8248661.