Route extends from Centocelle to Lodi from 29 June.
The stretch of Rome's third underground railway line Metro C between Centocelle and Lodi will open on Monday 29 June, according to the municipal transport company Roma Metropolitane.
Six new stations will be added to the existing 15 on the easternmost section of the line, from Pantano to Centocelle, which opened in November, going in the direction of S. Giovanni. The six new stations – Mirti, Gardenie, Teano, Malatesta, Pigneto and Lodi – cover just over 5 km, and will bring the stretch of Metro C in operation to about 18 km.
The president of Roma Metropolitane, Paolo Omodeo Salè, describes the upcoming opening as "significant" as it means commuters arriving at Lodi will be "just a few hundred metres from S. Giovanni station and the A line."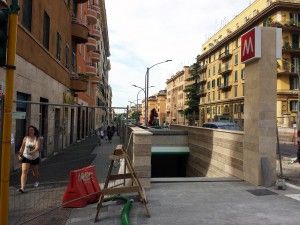 The Metro C project, which was originally meant to run from Pantano across the historic centre of Rome to a new station near the Vatican and even beyond to Piazzale Clodio, has been beset with difficulties since it started in 1990. These have included funding overspends, lengthy delays and the abandonment of planned stations across the historic centre caused by the discovery of archaeological remains underground.
Last year Italy's audit court accused the project's consortium of cost overruns that were neither accounted for nor agreed, on the Pantano-Centocelle section. The court said that over €360 million of public funds were wasted between 2006 and 2010, and that the system was "designed to reward delays." In 2012 the court's president Luigi Giampaolino said that Metro C seemed set to become "the most expensive and slowest public works project in Europe and the world."
Since construction began a quarter of a century ago, the cost of the project has risen from €1.9 to over €5 billion. Completion of the S.Giovanni-Fori Imperiali section is scheduled for September 2020.
For full details of opening on 29 June see Muoversi a Roma website. See also related article.