La Sapienza presents major library project.
Rome's La Sapienza University is to build a mega-library that will house more than two million volumes, combining the vast book collections of its faculties of humanities and philosophy.
The library project, designed by Rimini-based Mijic Architects, was presented on Monday by the university's rector Antonella Polimeni and the capital's mayor Roberto Gualtieri.
The library - which will be accessible to La Sapienza students as well as Rome citizens - will be located in a 5,200-sqm area of the campus overlooking Piazzale Aldo Moro in Rome's S. Lorenzo district.
Alla Sapienza una nuova grande biblioteca aperta alla cittadinanza

Presentato il progetto per la costruzione dell'edificio che ospiterà la nuova Biblioteca unificata della Facoltà di Lettere e filosofia

[leggi su https://t.co/mtsPQbogWd]#Letfil_Sapienza #Age_Sapienza pic.twitter.com/gfu7TnroKl

— Sapienza Università di Roma (@SapienzaRoma) February 16, 2023
"The new structure will have the appearance of a living library" - said Polimeni - "and, at the same time, that of a laboratory open to experimentation and all forms of scientific communication."
There will be a 24-hour study room and meeting spaces "for cultural activities at the service of all citizens", Polimeni said, with a public entrance from Via dei Marrucini.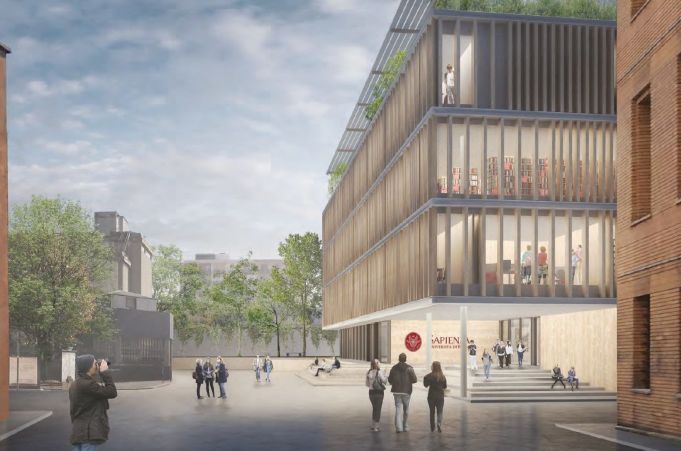 Gualtieri said that as a former student and professor at La Sapienza he was "particularly excited" about the project which would be a "hub of the highest cultural value, creating a direct relationship with citizens".
Founded in 1303, La Sapienza is the oldest university in Rome and the largest in Europe.
For more details about the university's library project see Sapienza website.