Where to go jogging in Rome.
For all those interested in staying fit and doing so while breathing the fresh air of the eternal city while surrounding yourself with the history it has to offer, whether you are from the area or temporarily visiting Rome, the main question is: where to run in Rome?
Why jog in Rome?
Rome's surface covers about 1.285 kmq, therefore it is divided into North Rome, South Rome and Center Rome.
In each of these areas there are several locations where joggers can take the opportunity to dive into Rome's trails, definable as an open-air museum capable of bringing you back in time.
Rome offers many different possibilities for joggers to run in incredible places, giving them the opportunity to immerse themselves into history and art.
Lungotevere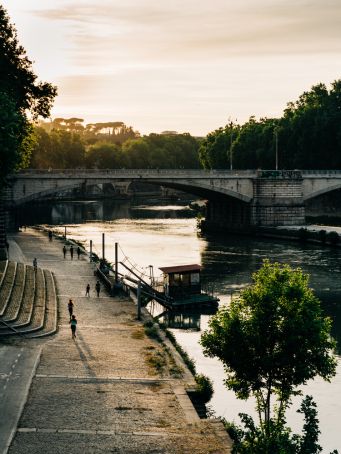 The most popular place Romans love to go jogging is Lungotevere, a 35 km path which runs along the Tiber river and does not have a specific location as it flows through the entire city.
Since it was born as a bicycle lane, joggers who choose this path must be careful and keep their right in order to not hinder cyclists. This path is accessible from different parts of the city and does not have a closing time.
Although not always reliable, since the river level often rises a lot when the weather is not favourable and often completely overwhelms the practicable path, it stands as the number one recommendation on sunny days.
The Aqueduct Park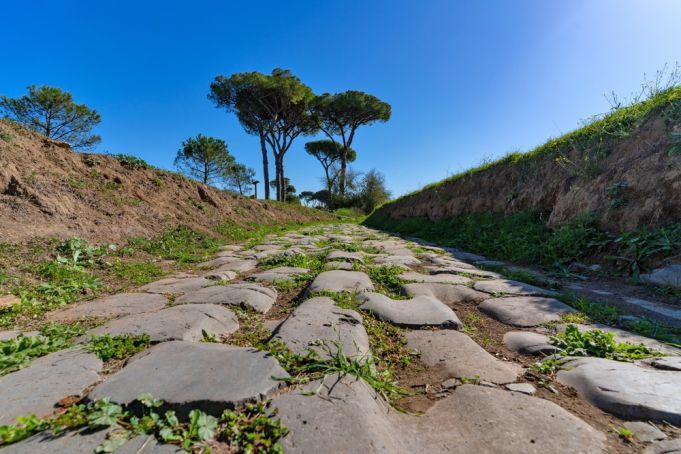 If you are more interested in being surrounded by ancient Roman ruins, the Aqueduct Park is a great location for jogging. It is open 24/7 and the entrance is free.
The track has a circular shape which extends itself for 240 hectares and is the best solution for who dislikes the traffic background noise as it is more detached from roads compared to Lungotevere.
This location's main attraction are the aqueduct ruins in which joggers can admire a series of architectural witnesses coming from different eras, mainly ancient Rome, but also dating back to the Renaissance.
Villa Pamphili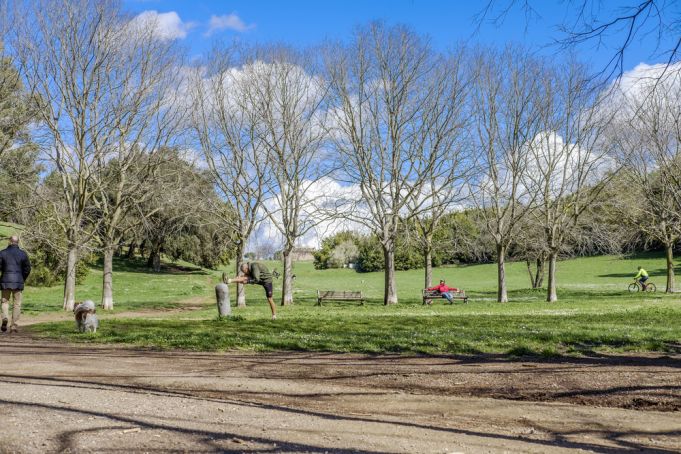 Image credit: sandrixroma / Shutterstock.com
Located near Trastevere, precisely on the Gianicolo hill, this park offers several different trails for jogging, completely immersed in nature and open everyday from 7am to 6pm. The entrance is free.
Unlike other jogging locations, Villa Pamphili gives runners the opportunity to leave their bags or backpacks in a structure built exactly for this purpose, where, once the workout is over, you can also take a shower.
The park extends itself for 184 hectares and is accessible from 4 different entrances, respectively Via Aurelia Antica, Via San Pancrazio, Via Leone XIII and Largo Casale Vigna Vecchia.
Villa Borghese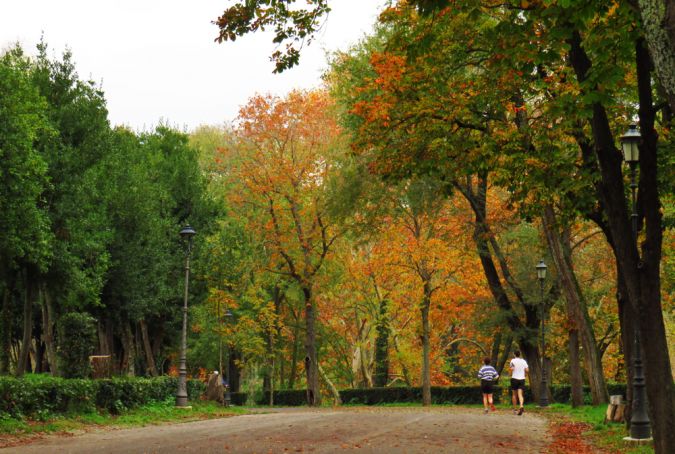 Villa Borghese is one of the main attractions in the center of Rome because of its richness in art and nature, populated by statues and fountains. The park extends itself for about 80 hectares and here joggers have the opportunity to run surrounded by nature and tranquility.
The park offers joggers the opportunity to stop and catch their breath to admire the view from the Pincio Terrace, overlooking Piazza del Popolo and Saint Peter's Dome, particularly beautiful during sunsets.
Villa Borghese is full of little kiosks in which you can stop to buy a bottle of fresh water or soda to rehydrate and take a pause from your jog.
Of course staying fit and sometimes even just craving some fresh air is most people's main focus, then why not do so while admiring the art and history Rome has to offer?
Image Credit: ste77 / Shutterstock.com