By Annabel Holland
In collaboration with the American University of Rome
As spring comes closer, Rome's most popular attractions are beginning to flood with people from all over the world. Some sites, however, are still relatively undiscovered by the typical tourist. For an alternative to the crowds at the Trevi Fountain and the Colosseum, opt for a trip across the Tiber to Villa Doria Pamphilj. This park originated as the estate of the Pamphilj, a noble Roman family. The eponymous villa, which has since been donated to the public, exhibits the family's sprawling estate, including features such as gardens and a lake. It stretches across 184 hectares making it the largest landscaped public park in Rome. However, it has remained somewhat of a hidden (and huge) gem. Villa Pamphilj is often overlooked next to the more central Villa Borghese but its location outside the historic centre of Rome helps it avoid the general influx of tourists. Located in Monteverde, it is easily accessible by bus and a close walk from the Trastevere neighbourhood while retaining all the feelings of a Roman countryside estate. Its sprawling gardens and quieter location make it a pleasant destination for residents and tourists alike.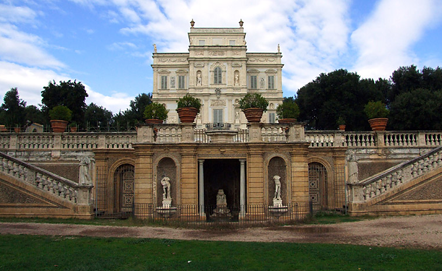 This park is perfect for visitors looking to get a more authentic experience of living abroad and there are countless ways to enjoy it. Sports thrive at Villa Pamphilj - it is a popular spot for running and walking, with trails throughout the park. Expect to stumble upon fountains, statues and a lake. The peaceful atmosphere is ideal for practicing yoga on your own or with a local studio such as YogaNoStress. Classes are offered all summer and are open to all levels, from beginners to advanced. Another great activity is a picnic at Vivi Bistrot, a restaurant located in the centre of the park. Pick up a hand-packaged picnic and a bottle of wine to go, or splash out on a deluxe picnic for the ultimate experience. It is a great way to get immersed in the nature of Rome and escape the chaos of the city during high tourist season.
Not only does Villa Pamphilj provide a park for active residents and visitors, but it also evokes the rich history of Rome. Although currently closed to the public, the manicured gardens of the Casino del Bel Respiro can be seen clearly from the park above and are highly instagrammable. They also may look familiar if you're a fan of HBO's The Young Pope. Producers used this site as a stand in for Castel Gandolfo, the papal summer residence of Pope Pius XIII (played by Jude Law).
When the park closes at sunset, soak in one last view of S. Pietro in the distant skyline. At night, take your pick of restaurants or aperitivo and explore the history and activity Rome has to offer beyond the city at Villa Pamphilj.