Iranian diaspora in Rome mobilises against regime.
ROME: On a Saturday afternoon in late January, a group of plain-clothes officers stand guard in front of the Iranian embassy's high wrought iron gates on Via Nomentana in north-east Rome. Across the road, dozens of pro-democracy activists, a mix of Iranians and Italians, equipped with flags and megaphones, gather behind a large banner with the words "Women. Life. Freedom."
This is the slogan that has become the rallying cry for the protest movement in Iran, which ignited in mid-September after the murder of the Kurdish woman Mahsa Amini in police custody.
Nearly five months after the uprising began, revolutionary sentiment is still coursing through cities and towns of Iran. In response, the Iranian diaspora in Rome is continuing to mobilise to support the protests with coordinated actions across the capital. The aim is to keep the spotlight on Iran and to raise the alarm about the regime's increasingly violent crackdown.
"With everything that is still going on on the streets of Iran, it's impossible to just stay at home," said Afsanè Mitus, an Iranian artist living in Rome, who is attending the protest. After leaving Tehran in the mid-1990s to pursue her artistic career, she was galvanised into action last autumn after watching young women march through the streets of Iran for their rights. "I've regained my patriotism," she said.
Together with organisations, like the left-wing party Partito Radicale, Iranian immigrants have organised demonstrations in front of the Iranian embassy in Rome almost every weekend in January and February.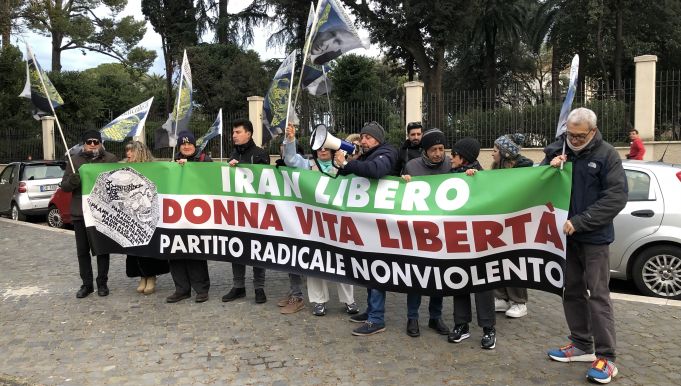 On 8 January, hundreds of anti-regime demonstrators marched through Rome's city centre. On 4 February, about 60 protesters gathered in Piazza dei SS. Apostoli in memory of Mohammad Moradi, an Iranian student living in the French city of Lyon who threw himself into the Rhône river in protest against the widespread suppression of the uprising in Iran.
In January the newspaper La Stampa ran a petition in support of freedom in Iran, which was signed by more than 300,000 people and was handed over to staff at the Iranian embassy.
Across Europe, Iranian exiles have been tireless on the protesters' behalf. In October 80,000 Iranian expatriates convened in Berlin demanding the abolition of the Islamic Republic. Similar protests have taken place in the US and Canada. Strikingly, according to a leaked recording of a meeting attended by Iranian intelligence officials, published by BBC Persian, of 92 million social media posts generated in the aftermath of Mahsa Amini's death, 60 per cent came from abroad.
Risks
Yet speaking out against Iran - even from the relative safety of Italy - can come with its own risks. The Islamic Republic has a long and well-documented policy of using violence as a tool of political repression - even against dissidents who live abroad.
"I am a little scared about speaking out. But I've told myself I won't go back to Tehran until the revolution happens," said Fardokht Kashani, 21, an Iranian student at La Sapienza University in Rome. Kashani says her vocal opposition to the regime's hard-line leaders could get her arrested for spreading false information, punished and even imprisoned once she returns home. She has chosen to keep her family, who live in Tehran, in the dark about her activism so as not to worry them.
Kashani's activism is courageous. It's the sort of courage that has made Iranian women - who have been leading the movement in Iran - a symbol of resistance around the world.
Across town, another sort of protest is taking place in Piazzale Flaminio. Amid the swarms of camera-toting tourists, about 40 demonstrators are placing red roses in front of pictures depicting the faces of those who have been killed by the regime in recent months. This vigil has been organised by a group known as Mujahideen-e-Khalq (MEK) or People's Mujahideen, a part of the National Council of Resistance of Iran.
The group, which played a decisive role in toppling the Shah, has been committed to overthrowing the Islamic republic for a generation. Nevertheless, the group remains controversial in Iran for its cult-like following and for its support for Hussein in the Iran-Iraq War of the 1980s.
Shahrzad Sholeh, an activist attending the event, is the president of the Iranian Democratic Women's Association in Italy, an umbrella organisation of the People's Mujahideen. She said she has been organising protests against Iran's regime in Italy for more than 40 years.
After moving to Italy as a political exile in the early 1980s, she has spent decades cultivating close contacts with senior politicians, lobbying Italian media, as well as international organisations like the UN in Geneva and EU in Brussels, for a tougher stance on Iran's theocratic regime. Recently, she has been helping to get Iran's violent Revolutionary Guards blacklisted on the EU terror list.
Discussions about a future, post-Islamic Republic of Iran reveal some disunity among the opposition groups operating in Italy. Sholeh says the People's Mujahideen no longer join other anti-government protesters in Rome, choosing instead to have their own events. "Some protesters don't want to be associated with us even though we have the same objectives," she said.
Conscious of the People's Mujahideen's chequered past, it's true that some Iranians are distrustful of the group's political ambitions in Iran, fearing that they will grab power for themselves once the regime falls. In response, members of the People's Mujahideen claim that such narratives have been planted by the Islamic Republic as part of a tactic to discredit the group and spread fear that if the regime falls, chaos will follow.
Fight for change
Nevertheless, for the time being most Iranians in Italy are united in their view that nothing can be worse than the current regime and are prepared to keep on fighting for change.
Back across town in front of the Iranian embassy, Mitus is about to lead an anti-regime chant with a megaphone. "The movement is like a fire," she said, "every person needs to add a log to keep it burning."
By Charles Seymour
Cover photo ANSA