Florentine artist Sandro Chia's painting Boy and Dog belongs to the Italian Transavanguardia movement whose main protagonists were Chia, Francesco Clemente, Mimmo Paladino, Nicola De Maria and Enzo Cucchi.
Part of a worldwide Neo-Expressionist art movement, Italy's Transavanguardia began in the late 1970s and reached its peak during the 1980s. The movement was characterised by a spirit of freedom and emotion, with a focus on reviving figurative art, mythical imagery and symbolism.
Many of these defining elements can be seen in Chia's Boy and Dog whose dense brushstrokes and strong, contrasting colours give an expressionist feel to the large-scale canvas.
As the painting's English title suggests, the central figures are a boy and a dog, both seated, surrounded by a forest of autumnal leaves against a daylight-blue background.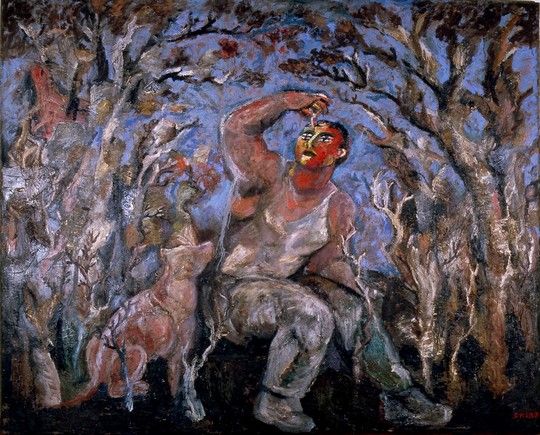 The intensity of the portrait becomes more obvious on second-glance: Chia's desire to see "more" and "better" is highlighted in the double representation of the boy's eyes on his brightly-coloured face.
The stock-still dog stares intently at the boy who dangles overhead an undefined object, possibly a leaf, adding a mysterious, even magical, dimension to the work which was painted in 1983 and has been in the collection of the Galleria Nazionale d'Arte Moderna since 1996.
The painting can be seen in Room 32, Il ritorno alla pittura e alla scultura, and is the only Chia work in the gallery's collection.
Andy Devane
Photo: Roma, Galleria Nazionale d'Arte Moderna e Contemporanea. Su concessione del Ministero dei Beni e delle Attività Culturali e del Turismo.