The eighth edition of the IrishFilmFesta continued on Friday 27 March at the Casa del Cinema in Villa Borghese, with a full house all day.
The programme began with the screening of Ballymurphy, introduced by Italian journalist Silvia Calamati. The 38-minute documentary gives voice to the relations of the victims of the massacre of 11 civilians in Belfast by the British army's parachute regiment in 1971, whose casualties included a mother of eight young children, and a priest going to the aid of a wounded man.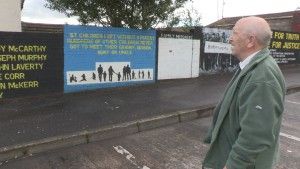 The raw and moving documentary was shown in Rome just hours after Ireland's prime minister Enda Kenny renewed his calls for an independent enquiry into the massacre. Speaking after the documentary, Seán Murray, the director of Ballymurphy, said that the political landscape of Northern Ireland is now entering a new phase, with a peaceful future where the only conflict was the "battle of narratives."
However he insisted that it was "paramount to give families of victims of state violence their say." When asked by an audience member what the difference was between Ballymurphy and the later Bloody Sunday, Murray said it was simple: "There were no cameras at Ballymurphy."
The evening continued with Brendan Behan: The Roaring Boy, directed by Maurice Sweeney. The hour-long documentary follows the celebrated Northern Irish actor, writer and director Adrian Dunbar as he sets off on a journey from Dublin to Paris, London and New York, to discover the real story behind the controversial poet and playwright. The documentary includes contributions from film director Jim Sheridan, writer J. P. Donleavy, and actress Kathy Burke. It is a touching and compassionate account of a troubled, multi-faceted man who battled demons all his life before eventually succumbing to them with an early death from diabetes, caused by alcoholism, at the age of 41.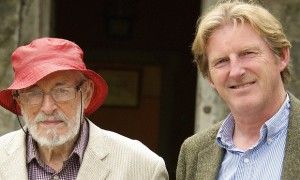 The screening was followed by an interview with the colourful Dunbar – whose film credits include The Crying Game and The General – by Susanna Pellis, director of the IrishFilmFesta, and Prof. John McCourt of Roma Tre University who recently organised an international conference in Rome dedicated to Behan.
Dunbar has played Behan many times in the play Brendan at the Chelsea, written by Brendan's niece, Janet Behan. It is evident from the documentary, and even more so from the subsequent interview, that Dunbar has a deep connection and admiration for Behan. He said his motivation for making the film was to "deconstruct the image of Behan the alcoholic" and "refocus attention on the fact that he was a writer, a very important writer, and poet."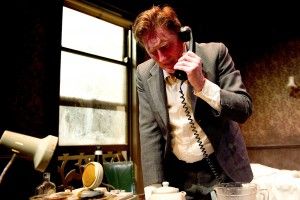 Asked by McCourt about Behan's relationship with Ireland, Dunbar described it as being of the "love-hate" variety. "Ireland was a very repressive place," Dunbar said, "a difficult place for somebody like Behan." And while Behan courted fame in London and New York, Dunbar felt that he was "terribly disappointed" that his work was not recognised in his native city.
McCourt drew attention to the important role played by some "very extraordinary women" in Behan's life, namely his mother, grandmother and long-suffering wife Beatrice. Dunbar described these women as the "great enablers" for Behan, particularly Beatrice who, he felt, was "looking for a writer, somebody damaged, to care for and mind."
Before the interview ended, Pellis invited Dunbar to read some of Behan's work in the writer's own voice. Not a bashful character by nature, Dunbar rose to his feet and asked why he would read when he could "sing a bar of a song instead". And so did, very well, in Irish, before sitting down and transforming himself into Behan in a surprisingly convincing manner.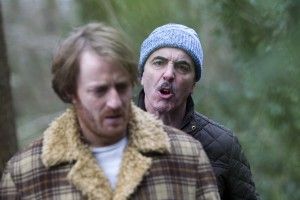 The evening ended with the comedy Gold, directed by Niall Heery. It was preceded by the five-minute short film The Weather Report by Paul Murphy, which centres around a mysterious phone call to a west of Ireland lighthouse during world war two.
Gold tells the story of estranged father Ray, played by David Wilmot, whose return to his hometown after 12 years to reconnect with his teenage daughter Abbie has an aburd and life-changing effect on everybody involved, including his former partner's husband Frank, played by James Nesbitt. Gold is offbeat and quirky and features a solid performance from up-and-coming English actress Maisie Williams (Abbie), best known for her role as Arya Stark in the HBO television series Game of Thrones.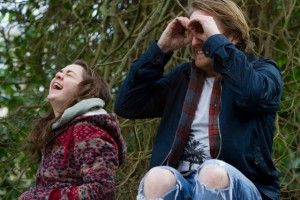 The IrishFilmFesta continues on Saturday 28 March, with Day Three beginning at 15.30 with a series of short films followed by Patrick's Day and a Q&A session with its director Terry McMahon. For full details see website.
Andy Devane
See also Day One of IrishFilmFesta
General Info
Address
Casa del Cinema, Largo Marcello Mastroianni 1 (Villa Borghese), tel. 06423601.
View on Map
Day Two of IrishFilmFesta
Casa del Cinema, Largo Marcello Mastroianni 1 (Villa Borghese), tel. 06423601.