The eighth edition of the IrishFilmFesta continued on Saturday 28 March at the Casa del Cinema in Villa Borghese, with lengthy queues and capacity crowds for each screening.
The programme began with a series of short films: Somewhere Down The Line, an animated film by Julien Regnard following the loves and losses of one man's life, shown through the passengers of his car; The Weather Report by Paul Murphy, centred around a mysterious phone call to a west of Ireland lighthouse during world war two; Anya by Damien O'Connor, a touching animated film charting 20 years in the life of a Russian orphan; The Duel by Alex Sherwood, Ben Harper and Sean Mullen, an animated encounter between two wizards who battle over a book; Ghost Train by Lee Cronin which centres around a reluctant annual pilgrimage by two brothers to a creepy fairground with a tragic past; The Ledge End of Phil by Paul Ó Muiris, an animated film about a man who must take a leap of faith or be trapped forever; and The Good Word by Stuart Graham, about a preacher whose gospel-preaching visit to a household takes an unexpected turn.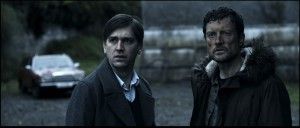 The shorts were interspersed by encounters with two of the films' directors. Lee Cronin described his film Ghost Train, which stars Eoin McDonnell and Steve Wall, as being about "decisions we make as children and how they effect us as we grow up." Paul Ó Muiris said his animated film The Ledge End of Phil was about the "choice between security and risk", and whether to "be active or be passive." Later that evening both films won the festival's Short Film Prize.
The shorts were followed by Patrick's Day, Terry McMahon's award-winning film starring Moe Dunford as a 26-year-old schizophrenic who experiences love for the first time. From the beginning, this disturbing and emotive movie gripped every viewer in the packed cinema; one particularly shocking sequence, with its jarring use of sound and graphic imagery, caused several people to leave; others were frozen with their hands to their faces. Like coming to the end of a powerful novel, when the lights came on the audience was left reeling.
As the film's director Terry McMahon, producer Tim Palmer, and star Moe Dunford took to the stage, they were greeted with sustained applause. With his tall frame, John Wayne swagger and frequent use of unprintable language, McMahon is the tough guy of Irish cinema. Patrick's Day, he said, is a "story of loneliness and courage", and was inspired in large part by his experience of working in a psychiatric hospital as a youth.
Dunford, whose performance in the film is nothing short of astounding, said he drew inspiration from a close family member to play the demanding role. "In many ways", he said, " the more you get to know Patrick, you realise he is more normal than many of the film's other characters." Speaking from the audience, the acclaimed Irish film director Lenny Abrahamson said he was "really moved" by the movie, in particular its ending.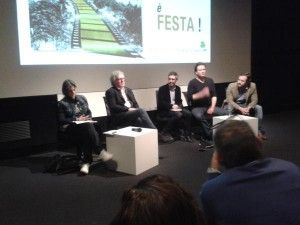 Patrick's Day was followed by An Bronntanas/The Gift by Tom Collins, introduced by Barry McCrea of Rome's University of Notre Dame. Filmed entirely in Ireland's native Gaelic language, the contemporary thriller follows a lifeboat crew whose members make a dramatic discovery during a rescue mission, leaving them faced with a life-changing decision. The film was preceded by the 11-minute Rúbaí by Louise Ní Fhiannachta, also in Gaelic, about a little girl who refuses to participate with her classmates as they prepare to receive their First Holy Communion.
The IrishFilmFesta ends on Sunday 29 March, with Day Four beginning at 15.30 with the Oscar-nominated animation Song of the Sea, followed by Frank and encounter with its director Lenny Abrahamson. For full details see website.
Andy Devane
See also