Students from The New School Rome see Romeo and Juliet at Rome's Globe Theatre.
The English department of The New School was delighted to organise an outing to see an English-language production of Romeo and Juliet at the Silvano Toti Globe Theatre in Villa Borghese. This was an exciting opportunity for students in Key Stage Four and Five to see Shakespeare's celebrated play performed at Rome's full-scale timber reproduction of Shakespeare's Globe, which replicates the original oak and thatch designs of the theatre that stands on London's South Bank. Seeing a live performance of this play in such a beautiful setting was of particular benefit for our Year 11 students who are currently studying Romeo and Juliet in preparation for their IGCSE Exam in English Literature. Calum Sarch Thomas, in Year 10, writes of his experience. Anna Madden, English & Drama teacher"
These violent delights have violent ends
And in their triumph die, like fire and powder
Which, as they kiss, consume"
Romeo and Juliet was written in 1594 by Shakespeare and is set in the alluring Italian city of Verona at a time when a long-standing feud between two noble families – the Montagues and Capulets – constantly wreaked havoc on the streets. Both sides are warned by Prince Escalus that they must not disturb the peace again, or feel the pain of death. Yet despite the inconceivable odds Montague's son Romeo falls deeply in love with Juliet – daughter of Capulet. The following play shows both the dangers they traverse and their inseparable love for each other that showed us how they could not live apart.

On the night of 10 October, our Year 10 class as well as varying older students went to see Romeo and Juliet. The performance was stunning. Directed by Chris Pickles and his Bedouin Shakespeare Company, a company filled with talented veterans who return to Rome annually. We saw our play under the enticing night sky in the Globe theatre, located in Villa Borghese. It is a replica of London's Globe theatre whose panoramic stage is surrounded by three layers at almost all angles, were it not for the backstage. The Globe was the primary home of Shakespeare's acting company beginning in late 1599. Many famous figures like Queen Elizabeth often came to enjoy his spectacles. Theatre helps us travel back in time.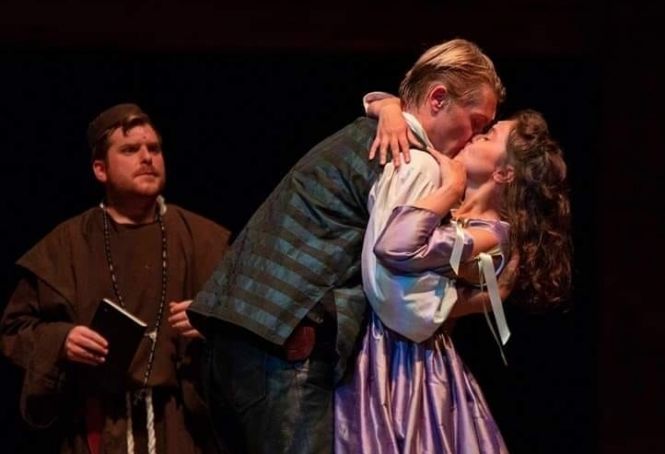 When we arrived we admired the theatre before taking our seats. It wasn't long before the play began. This is an incredibly professional show delivered by a hard-working cast whose members appeared immersed in the play. However, there were a few technical complications: the battle sequences, especially at the start, were slightly out of sync, as well as the actors varying volume level. However, the play was outstanding.
I found that their performance was very faithful to Shakespeare's original vision. They kept the costumes, elocution and setting identical to how it would have been in the 16th century. This turned out to be wonderful, as even hundreds of years later the play excels. Its similarity to the original serves to emphasise the modern relevance and universality of Shakespeare's plays. An example could be awareness of children's opinions.
The lovers: Joanna Lucas (Juliet); and Jack Forsyth-Noble (Romeo) were wonderful actors and were able to convey their characters' emotions like they were their own. They had a great bond, especially when we got to see their varying reactions, expressions and voice tones.
Finally, my favourite character was the Nurse. Played by Kali Peacock, her energetic performance brilliantly captured the erratic nature of one of Shakespeare's most difficult characters. She was very comic and also frequently made bawdy remarks. This made her stand out in the tragic tale that this is. However, despite this, we could see her devotion and love for Juliet. She was a very likable character.
Overall the entire production was executed with lots of speed and vigour that ensured we were never tired or bored, with little to no gap between scenes. This experience was a huge success, and I think it would benefit the school and our educational studies greatly if we were to return.
WANTED IN ROME JUNIOR: For young writers and artists
Wanted in Rome is accepting creative contributions from students in all international schools in Rome. Articles on topics related to either the student's life in Rome or their school projects can be submitted by their class teachers. The work should be no more than 1,000 words and all contributions should contain the name, age and school of the students. We also accept illustrations. Any class teachers who would like to propose a project please contact editorial@wantedinrome.com.
General Info
Address
Via della Camilluccia, 669, 00135 Roma RM, Italy
View on Map
Wanted in Rome Junior: Romeo and Juliet
Via della Camilluccia, 669, 00135 Roma RM, Italy