Forgotten Project unveils Trastevere mural by British street artist.
My Dog Sighs' artwork for Forgotten Project, entitled I still remember how it was before, was inaugurated on 17 March outside the Nuovo Regina Margherita hospital in Rome's Trastevere district. The mural on Via Morosini is the first to be completed in the second edition of the Forgotten Project, whose aim is to reclaim the value of urban heritage.
Once he had researched the building from several points of view - architectural, anthropological and social - and studying its transformations over time, My Dog Sighs painted 540 of his trademark eyes, each of which contains the reflection of the wall and the Roman skyline.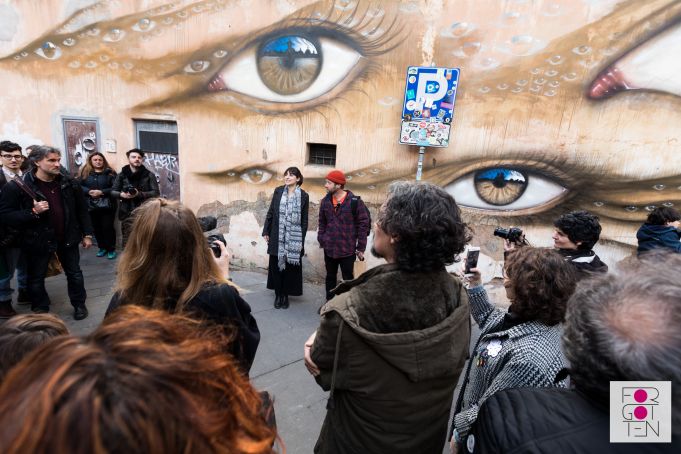 After gathering photographs of local people who had a story connected with the hospital, the Portsmouth street artist incorporated their silhouettes into the reflections in the eyes.
"Every eye tells the story of the community and of the place that has taken care of each of them. Forgotten Project is an interesting project and to paint the wall I had to understand both the location and the local community first", My Dog Sighs said.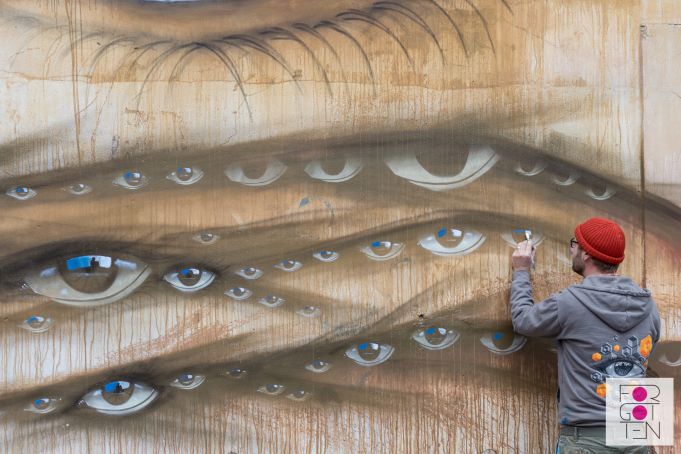 A programme of events led up to the well-attended inauguration on 17 March. After a tour of historic hospitals in central Rome, from S. Spirito to Nuovo Regina Margherita walking past the S. Gallicano, Forgotten Project organised the first Free Art Friday in Rome as a tribute to My Dog Sighs. Wandering around Trastevere, people could stumble upon more than 200 free artworks, left by national and international artists for those who wanted to bring them home for free. Organisers say the event has brought together artists and Rome residents, who were invited to pay attention to what is around them.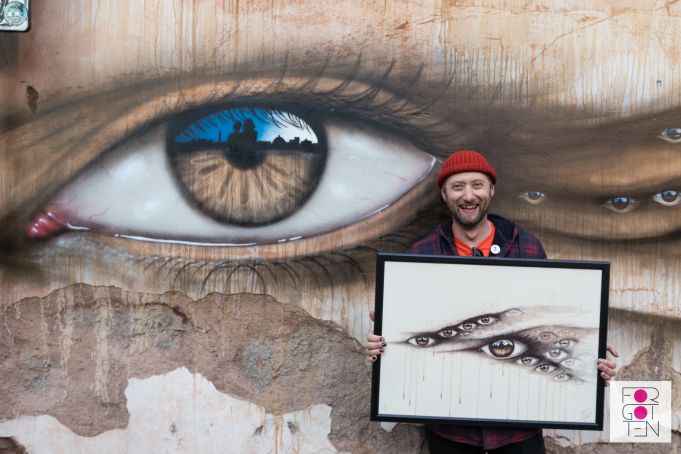 My Dog Sighs has created a limited edition of silk prints, heavily hand finished, which are available via the Forgotten Project website. Proceeds from their sale will help the fundraising of the project which continues with three more big names from Britain: Lucy McLauchlan, Dan Kitchener e Phlegm.
Forgotten Project was born in 2015 to enhance Rome's contemporary architecture through urban art, and after the first edition focused on Portugal, this year it chose the United Kingdom. For full details see website.
Photos Stefano Corso.
General Info
Address
Via Emilio Morosini, Milan, Metropolitan City of Milan, Italy
View on Map
My Dog Sighs unveils mural in Rome
Via Emilio Morosini, Milan, Metropolitan City of Milan, Italy