Rome premiere for This World Can't Tear Me Down.
Several thousand people attended the Rome preview on Thursday night of a new Netflix series by Zerocalcare ahead of its international release on the streaming platform on Friday.
Titled Questo mondo non mi renderà cattivo (This World Can't Tear Me Down), this is the second animated Netflix series by the Rome cartoonist Michele Rech, better known as Zerocalcare.
The six-part series, presented in Rome's Testaccio quarter, comes two years after Zerocalcare received critical acclaim for his series Strappare lungo i bordi (Tear Along the Dotted Line).
The preview was held in Città dell'Altra economia - a sprawling open-air venue attached to the city's former abbatoir - which was transformed for the occasion into the offbeat comic-book world of Zerocalcare.
Huge crowds in Rome tonight for the preview of 'Questo mondo non mi renderà cattivo', the new #Zerocalcare series for Netflix. @NetflixIT pic.twitter.com/yz9KAqumZc

— Wanted in Rome (@wantedinrome) June 8, 2023
So what is the new Zerocalcare series about?
"An old friend returns to the neighborhood after several years away and struggles to recognize the world in which he grew up" - reads the introduction on the Netflix website - "Zerocalcare would like to do something for him but realizes that he is unable to help him feel at home again and make the right choice to find his place in the world."
Ahead of the launch on Thursday night, Zerocalcare told journalists that the new series is "more divisive" than the first "due to its political themes" as well as being "more complex" due to its longer format.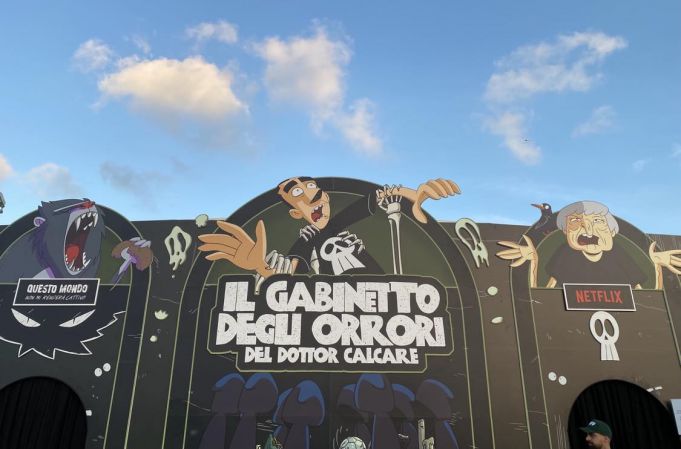 Zerocalcare created, directed and stars in the "irreverent animated series inspired by his graphic novels", and fans of his first show can look forward to the return of Zero, Sarah, Secco and the Armadillo (Zero's conscience) along with the debut of new central character Cesare.
The cartoonist defined his new series as "a very human story of friendships betrayed and people from the neighbourhood I've argued with", describing the process as more of a "biography than a political thing, but then sometimes things overlap".
The series, whose six episodes last half an hour each, launches on Friday in more than 190 countries and is available in several languages including English.