S. Lucia choir performs in Italy thanks to Swedish embassy in Rome.
10-11 Dec. This year's choir of young students from Stockholm's Musikgymnasium high school will perform Swedish traditional Christmas songs, carols and hymns at St Peter's Basilica on Monday 10 December at 17.00.
This is followed later that evening with a concert at Piazza di Pietra in the historic centre, at 19.00, where guests will be provided with Swedish Christmas treats such as glögg (hot spiced wine), pepparkakor (ginger bread biscuits), and julmust (non-alcoholic soft drink).
On Tuesday 11 December the choir will perform at the IKEA store at Porta di Roma at 14.00.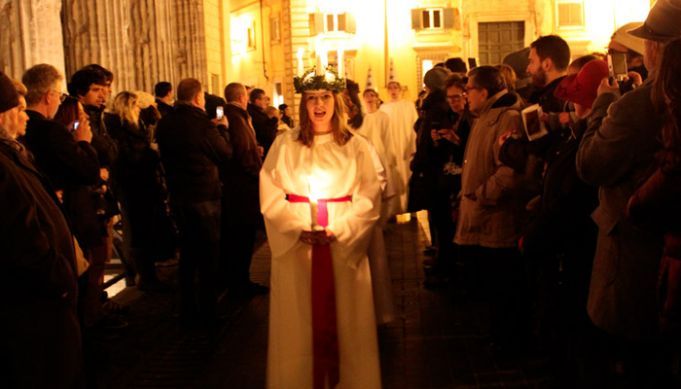 S. Lucia, the third-century Italian martyr from Syracuse, has over the years lent her name to a festival of light in Scandinavia. Now one of Sweden's most important annual events, the festival features youngsters dressed in white robes and red sashes, carrying candles in procession as traditional songs are sung.
For insights into Rome's Swedish community see
Wanted in Rome feature article
.
General Info
Address
Piazza di Pietra, 00186 Roma RM, Italia
View on Map
Sweden's S. Lucia choir sings in Rome
Piazza di Pietra, 00186 Roma RM, Italia