Emanuela Orlandi: Vatican reopens case of missing girl after Netflix series
Orlandi case remains unsolved after four decades.
The Vatican has reopened an investigation into the 1983 disappearance of teenager Emanuela Orlandi, a few months after a Netflix documentary series purported to shed fresh light on the 40-year-old case.
The daughter of an employee at the Vatican Bank, Orlandi was 15 when she vanished without a trace as she returned to her Vatican City home after a flute lesson in Rome on 22 June 1983.
The Vatican's newly-appointed prosecutor Alessandro Diddi has decided to reopen the file on Orlandi, reports news agency Adnkronos, with the new investigation set to "leave no stone unturned".
The reopening of the case follows a sustained campaign from Orlandi's older brother Pietro who welcomed Diddi's decision as a "positive step", telling state broadcaster RAI News on Monday: "There are new elements that need to be analysed and I am convinced that there are people in the Vatican who are aware of everything."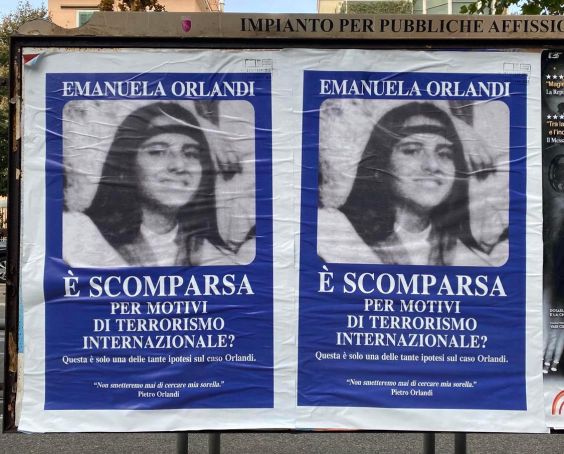 The development comes months after the release of the four-part Netflix documentary-series Vatican Girl which brought renewed public attention to the mysterious cold case.
Over the decades Orlandi's disappearance has sparked conspiracy theories ranging from kidnap by a terrorist group demanding the release of Mehmet Ali Ağca, who shot Pope John Paul II in St Peter's Square in 1981, to the involvement of the Banda della Magliana, Rome's notorious criminal gang founded in the 1970s.
One of the theories was that Orlandi was buried alongside Roman mobster Enrico De Pedis in the Basilica di S. Apollinare near Piazza Navona. However when his tomb was opened in 2012 there were no clues found.
Other false leads saw the Vatican reopen tombs in the Teutonic Cemetery, beside St Peter's, following an anonymous tip-off received by the family of the missing girl in 2019.
However the tombs were found to be empty, adding further mystery to a case that has gripped Italy for nearly four decades.