Wanted in Rome's guide to enjoying St Patrick's Day in the Italian capital
St Patrick's Day festivities begin early in Rome this year with the Celtic Ball – the city's biggest social event in Irish circles – taking place on Saturday 14 March at 19.30. The 24th edition of the annual black-tie event is held at the five-star Grand Hotel Parco dei Principi near Villa Borghese.
Irish Club president Patricia Heery told Wanted in Rome that this year the dance-floor and bar will stay open until 03.00, much later than previous editions of the event. She also reminded guests to confirm their attendance as soon as possible to avoid disappointment.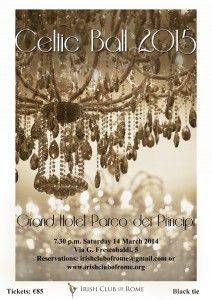 St Patrick's Day in Rome begins officially on Tuesday 17 March at 10.00, with the annual Mass for Lá Fhéile Pádraig being celebrated by Cardinal Prosper Grech OSA at St Patrick's Church on Via Boncompagni 31. The Mass is always extremely well-attended by the city's Irish community and friends of Ireland, who all join in a rousing chorus of Hail Glorious, St Patrick.
Later that morning the programme for the eighth edition of the IrishFilmFesta will be launched at the Irish embassy to Italy in the presence of Ireland's minister for agriculture, food and the marine, Simon Coveney, and the Irish ambassador to Italy, Bobby McDonagh. The popular film festival takes place at the Casa del Cinema in Villa Borghese from 26-29 March, and showcases feature films, documentaries and short films, and provides conferences and public interviews with special guests. This edition will have 15 short films in competition; a special section dedicated to Irish Gaelic language; and a tribute to the Irish film and television director Lenny Abrahamson.
However the biggest news this year is the "greening" of the Colosseum, when Ireland's annual Global Greening campaign for St Patrick's Day illuminates the ancient amphitheatre in green lights on 19.30 on Monday 16 March. The so-called greening of the Colosseum, secured by officials from Tourism Ireland and the Irish embassy in Rome, has been described by tourism chiefs as a "major coup" for Ireland.
For those who wish to raise a toast to St Patrick with a pint or two of Guinness, some of the Irish pubs most favoured by the capital's Irish expats include the Druid's Den, the Fiddler's Elbow, Finnegan's, and Scholars Lounge, all of which attract large crowds on St Patrick's Day each year.
The Irish festive season also sees the return of Clann Ri Liamo, an old-school Dublin balladeer already well-known on the Irish pub scene around Rome. Scholars Lounge has scheduled no less than eight live Irish acts from 11.00 on 17 March until 04.00 the next morning, with a line-up that includes Kildare's Ricky Nolan Duggan and the lively Wexford performer Darren Byrne.