Come mid-summer in Rome, most of us are in need of the cool of an outdoor pools to relax by.
But Rome isn't awash with them and most are part of privately-owned swimming and sports clubs or upmarket hotels. Expect to pay upwards of €30 a day per person for entry to exquisitely chic surroundings at the top end of the spectrum, and a minimum of €10 for perfectly adequate but sometimes crowded and scruffy cheaper pools.We've picked ten of Rome's best, from New York-style rooftop pools with to-die-for views over the city and a nice line in cocktails to family-friendly cheap and cheerful clubs. The € symbols represent ranking by price.
Aldrovandi City Suites. Small and very select city-centre oasis, La Ranocchia (meaning "little frog") is shaded by overhanging palms and huge cream parasols. Arrive early as space is limited around this pool. Daily rate Mon-Fri €55, Sat/Sun €60, Mon-Fri weekly pass €350. Via Ulisse Aldrovandi 11 (Parioli), tel. 063223993, website. €€€€€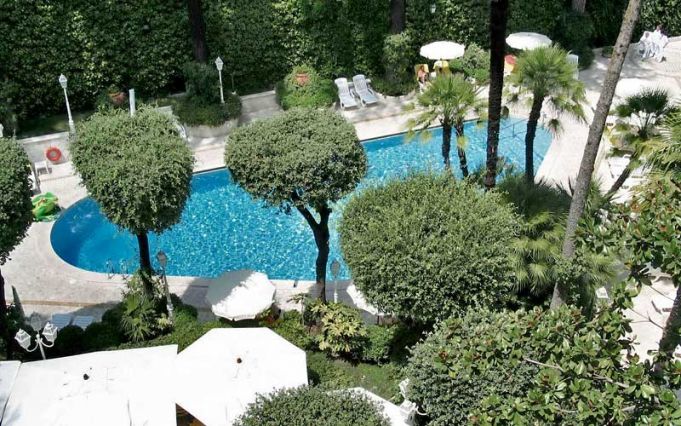 Belle Arti
Well worth a mention for its fantastic central location tucked behind a church on Via Flaminia. A quiet atmosphere makes it good for those with very young children. Mon-Fri 07.00-21.00. €15. Sat-Sun 08.00-20.00. €25. Children aged 7-13 accompanied by adult pay €10 weekday /15 weekend. Kids under 7 free. Via Flaminia 158 (Flaminio), tel. 063226529, website. €€
Cavalieri Hilton
This Olympic-sized outdoor pool-with-a-view is the crème de la crème of Rome's pools if you like serious swimming. It's large, luxurious and well worth the trip to Monte Mario. With a separate children's pool. 09.00-19.00 daily (weekdays €50, weekends €90, sun lounger and towel included, half-price for children aged 6-11. Via Alberto Cadlolo 101 (Monte Mario), tel. 0635091, website. €€€€€
Circolo Valentini
Slightly shabby but friendly, family-run pool, used by locals. The adjoining restaurant will make up a lunchtime salad for around €4. 09.00-19.00 (weekdays €10, half-day €7, weekends €14/€10). Via della Marcigliana 597, corner Via Bufalotta (Talenti/Prati Fiscali), tel. 0687120207, website. €
Club Lanciani
A large tennis club with an outdoor pool offering lessons, free swimming and a children's summer school. Weekdays 09.30-18.30, weekends 09.30-19.30. Adults €10.50/15, kids €7.50/11. Via di Pietralata 135 (Tiburtino), tel. 064181401, website. €€
Grand Hotel Gianicolo
Part of a luxury hotel, this pool is located in elegant surroundings with palm trees and views of Trastevere from the Gianicolo hill. Lunch and dinner served at pool-side restaurant. 09.00-19.00, weekdays €35, weekend and Holidays rate €50. Via delle Mura Gianicolensi 107 (Gianicolo), tel. 0658333405, website. €€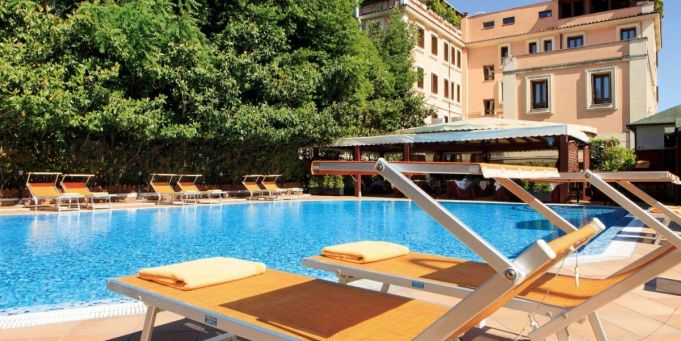 Hydromania Think miles of water slides, wave machines, pools, South-Pacific-style thatched bars, shops and a mini-club. Weekdays 09.30-18.30, weekends 09.30-19.30. Daily adult rate €22, kids €17. Half day rates €17/15. Casal Lumbroso 33 (Aurelio), tel. 0666183183, website. €€
Piscina delle Rose Large pool perfect for families, swimming and canoeing lessons. Mon-Fri 10.00-22.00, weekends 09.00-20.00 (€16 per day, €14 half-day). Viale America 20 (EUR), tel. 065926717, website. €€
Radisson SAS Hotel
Seriously smart and stunning heated rooftop swimming pool with sections for children and adults and poolside fine dining. 10.00-19.00 (adults €65 Mon-Fri, €90 Sat-Sun). Via Filippo Turati 171 (Esquilino), tel. 06444841, website. €€€€
S.S.D. Vita
Professional, outdoor swimming pool arranges lessons for children and adults and has tennis courts and a gym. Mon-Fri 07.00-21.30. €12 daily. Sat 07.00-20.00. Sun 08.00-20.00. €15 daily rate weekend. Children aged 10 upwards pay adult rate. Kids aged 5-10 €8, kids under 5 free. Via del Fontanile Arenato 66 (Aurelio), tel. 066634202, website.