Sicilian street artist Tvboy creates new political mural in Rome.
A street art poster depicting Italy's prime minister and two deputy premiers as characters from Pinocchio was removed from Vicolo della Torretta, near the Italian parliament, on the morning of 22 March.
The work was claimed by Sicilian street artist Tvboy who wrote on his Facebook page: "The work recalls the famous fable by Carlo Collodi. The Cat and the Fox, depicted respectively of Minister Di Maio and Deputy Premier Salvini, deceive Pinocchio and urge him to stand as President of the Land of Toys."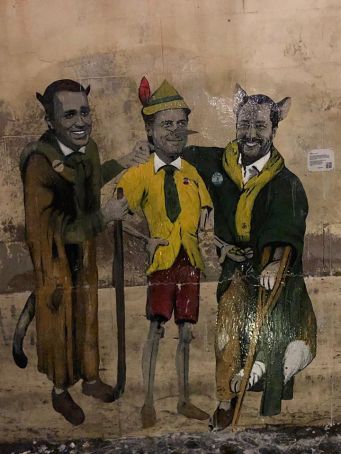 Tvboy added that the mural referred to the "heavy criticism" that Conte received in Strasbourg from Belgian politician Guy Verhofstadt who defined Italy's premier as a "puppet" in the hands of Salvini and Di Maio.
Tvboy was also behind the controversial mural of Salvini and Di Maio kissing that appeared in Rome one year ago.