There are two airports in Rome, but the main one is Leonardo da Vinci International Airport in Fiumicino (FCO).
The capital's largest airport excels in particular for the quality of the services provided to passengers, technological innovation and the functionality of its infrastructures. These records, combined with the operational efficiency that has made Leonardo Da Vinci one of the most punctual airports in Europe, have earned it the Best Airport Award three years in a row, a world record.
Fiumicino Airport and Covid-19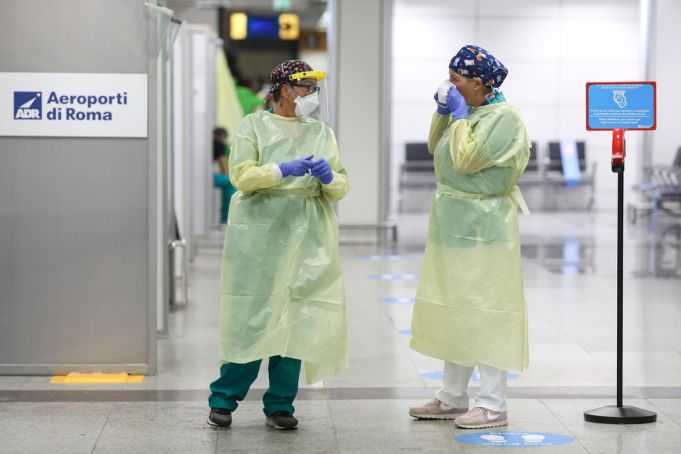 Fiumicino, under the guidance of managing organization AdR (
Aeroporti di Roma
) has adapted excellently to the pandemic and the repercussions, which is why Leonardo da Vinci was the first airport in the world to receive the maximum certification (5 stars) for equipment against Covid-19. Ph: Alessia Pierdomenico / Shutterstock.comIn May 2022 the airport opened Molo A, a
major new boarding area
with 23 gates, in a move hailed by Italy's president Sergio Mattarella as a "sign of recovery and confidence in the future." Illuminated by natural light, the three-storey structure has dozens of shops and food outlets - including the only
Eataly in an airport
- along with a collection of ancient Roman artefacts from Ostia Antica archaeological park.
Rome Fiumicino was considered a reference point in this new chapter of aviation services which, in addition to passenger and baggage handling, also includes strict protocols aimed at safeguarding health. Examples include, Covid procedure signs that are easy to read and in multiple languages, efficient UV technology, and plenty of staff dedicated to cleaning and maintaining maximum hygiene.
Transportation from Fiumicino to Rome
Although it is located further from the center than Rome's smaller second airport (Ciampino) there are plenty of connections that make it easy to get to Rome from Fiumicino.
The train from Fiumicino to Rome
Directly out of the Arrivals area signs indicate the Fiumicino Aeroporto train station. Just a ten minute walk, the station is connected to the terminals by an elevated tunnel and several escalators.To reach the city center we suggest the
Leonardo Express
:
Leonardo Express: connects Roma Termini Station to Fiumicino without intermediate stops. The journey takes 32 minutes and the cost is €14 each way. Departures are scheduled every 15 minutes. The service is guaranteed even during strikes and is usually on time. From Roma Termini you can then reach your destination using the subway lines.
Shuttle Bus
Another way to reach the center of Rome is through the shuttle buses that connect the airport to the city. The companies that offer this service are:
Terravision
:
This well- known company has one of the lowest fares, the ticket price starts from €5,80 and has a reduced cost if you book in advance or if you buy the round trip formula. Children from 0 to 4 years old do not pay (select the baby option at the time of purchase).
Departures are approximately every 30 minutes from 05:35 to 23:00 and the destination is Roma Termini station. For the opposite journey, departures are between 04:40 and 21:50.
T.A.M. Shuttle Bus
:
This company's strengths are the night runs and the price, starting from
€4,50 one way. The arrival is Roma Termini station or at Roma Ostiense station with an intermediate stop in the center of Fiumicino Airport. The frequency varies from 30 minutes to an hour and above all it has 24 hour service!
Taxi from Rome Fiumicino Airport
The taxi stand is directly outside of the airport exit. Taking a taxi is convenient and fast, as well as a
safe option to reach your destination directly. On the other hand, it is also the most expensive option, and since taxi drivers have a reputation for trying to cheat tourists, it is good to know that there are fixed rates for the different routes to Rome:
Rome Center (inside the Aurelian Walls): €48.
Castello della Magliana - Parco dei Medici: €30.
New Fair of Rome: €25.
Ciampino Airport: €50.
Tiburtina Station: €55.
Ostiense Station: €45.
Civitavecchia Port: €120.
Private Transfer from Fiumicino to the city centre
As with Ciampino airport, you can book a private transfer from Fiumicino airport. The advantages are that the driver will be waiting for you at the airport at the time indicated at the time of booking, and will take you straight to your hotel. The transfer is most convenient for groups of 6 people or more.
The cost is generally about €10 per person each way.
Rent a car at Rome Fiumicino Airport
Remember, however, that Rome is not always an easy city to get around by car.
Major rental car companies have counters upon exiting the Arrivals terminal.
Luggage
Fiumicino once had a reputation for biblical waiting times at baggage claim, but thanks to improvements by AdR, baggage pick up is quite painless.
Screens in the baggage claim area indicate not only the number of the belt dedicated to your flight, but also the estimated waiting time.A luggage deposit is located in Terminal 3, open every day from 06.30 to 23:30 with a fee of €10 per day.
Where to sleep near Fiumicino Airport
Early morning flight or late arrival? Consider these solutions:The closest is
Air Rooms Rome Airport by HelloSky
, a four-star hotel located inside the airport, connected to the terminals by an overpass. Comfort is sometimes priceless, but in this case it can cost you about €200 per night.
The Hilton Garden Inn Rome Airport, offers a guarantee on quality at a cost of about €150 per night, and offers wheelchair accessible accommodation!
A bit further out from the airport, the area around Parco Leonardo, many hotels offer free shuttle services to the airport and the cost of a night's stay is between 50 and 60 euros for a double room.
Airport Shopping
Although Rome is famous for its food and shopping, you would once have found this hard to believe when arriving in Fiumicino Airport.But vast improvements have been made to embrace its culinary heritage and encourage passengers to continue their shopping spree until the very last moment of their trip.
These days, Terminal E has an airside food court with a range of decent eateries, including fresh pasta, Roman-style porchetta, pizza, coffee and gelato.
Most eateries can also package up food for you to take on your flight. And the tax-free mall is home to more than 50 retail stores, with famous Italian names such as Bulgari, Armani and Ermenegildo Zegna.
Points of interest near Fiumicino
QC Terme Roma Spa and Resort
: A magical place to spend an afternoon with swimming pools, gardens, spa treatments, and thermal baths. The hotel is excellent. Perhaps a bit of pampering after all of the walking you did on Rome's cobblestone streets?
Ciampino Airport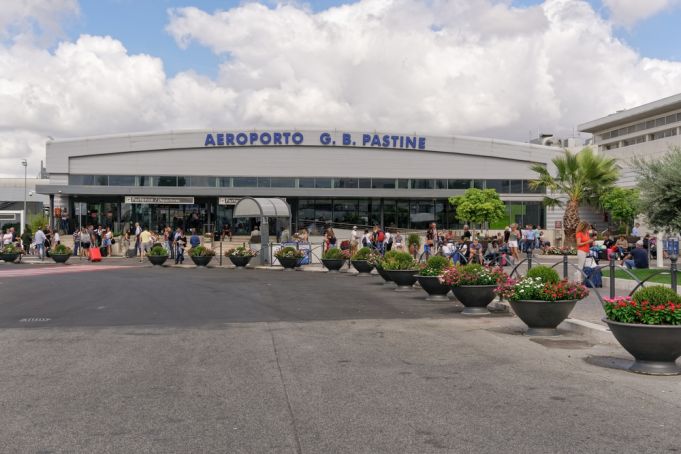 Rome Ciampino Airport is the second of Rome's airports.
In addition to being a civil airport, it also functions as a base for state aircraft.
Ph: Bestravelvideo / Shutterstock.com
Only low cost airlines Ryanair and Wizzair operate out of Rome Ciampino Airport.
Ciampino provides access to many important European destinations that connect through Rome, as well as smaller cities in Italy.
In total the low cost airlines reach 23 countries and 51 cities from Ciampino.
Rome Ciampino airport is managed by the company Aeroporti di Roma (ADR Ciampino Airport), which also manages Rome Fiumicino airport.
Where is Ciampino Airport
Ciampino G.B. Pastine Airport (CIA) is located south-east of Rome in the municipality of Ciampino in the metropolitan area of Rome, in a strategic position between Rome and the Castelli Romani. It is precisely 27 kilometers from the center of Rome and very close to the beautiful towns of Frascati and Castel Gandolfo, the summer residence of the Pope.
How to get to Ciampino Airport
By Taxi
The quickest way to Ciampino Airport is by taxi, from whichever area of Rome you are travelling.
The
official
taxi queue,with registered, licensed, official taxis, is directly outside of the airport.
The flat rate for Ciampino to Rome city center is €30.
If you are planning to take a taxi to another neighborhood of Rome, we advise agreeing on the price with the driver ahead of your ride.
By Train
Airlink
:
a combined train and bus transport system operated by Trenitalia. Take the bus close to the entrance of the airport, which will take you to the town of Ciampino without making intermediate stops.
Once arrived at the SF station of Ciampino take the train to Roma Termini station.
The cost is
€2.70 per person each way.
It runs on average every 20 minutes 7 days a week, and is useful for avoiding traffic.
By Bus
Terravision
: This service connects Ciampino Airport directly with Termini Station every day. The transfer service has regular and direct connections, with a frequency of more than 10 trips per day. The journey time for each route is approximately 45 minutes. Terravision coaches are air-conditioned, equipped with FREE Wi-Fi, and free luggage transport.
The price of the ride is
€
6.
Rent a car at Ciampino Airport
If you need a rental car in Ciampino Airport you will find 14 car rental companies, which have their offices right at the entrance of the airport, and the parking lots are connected to the Terminal by a free shuttle service.
Where to sleep near Rome Ciampino Airport
If your flight leaves very early in the morning you may need to look for a hotel near Ciampino Airport to spend the night.
There are a few nearby that offer free shuttle service to the airport.
We recommend the
Ardeatina Park Hotel
, which has an average price of
€
100 euro per night.
Flying to
Milan
? Check out
our guide on Milan's Airports
.