Street art in Rome celebrates Pasolini 40 years after murder.
Portuguese street artist Frederico Draw has painted the latest mural in Rome dedicated to the Italian film director, poet, writer and intellectual Pier Paolo Pasolini (1922-1975).
Draw's mural was created on a silo at the former Mira Lanza soap factory in Ostiense, in collaboration with Teatro India which is located at the site and which recently staged the theatrical tribute, Sono Pasolini.
The artist said he chose to paint a more positive and hopeful portrait of Pasolini who is often portrayed deep in thought. Draw's mural, his first in Rome, is part of the Forgotten project. Supported by, among others, the embassy of Portugal in Italy, the project involves five Portuguese artists being commissioned to enliven abandoned buildings around the Italian capital.
Other Rome murals dedicated to Pasolini include the work by Mauro Pallotta, better known as Maupal, in the Pigneto district. Located on Via Fanfulla da Lodi, a large black and white close-up of Pasolini's right eye, complete with crow's feet, peeps out from a gable wall.
The mural that arguably packs the biggest punch is Hostia by Nicola Verlato on Via Galeazzo Alessi 215 in the Tor Pignattara suburb. Known locally as the Cappella Sistina, Verlato's 10-m high mural is painted in black, white and graphite grey, and features a dead Pasolini falling through a grandiose tomb, away from his would-be murderers – including police and journalists – through a series of flashbacks and metaphorical scenes, and including figures such as his mother, Petrarch and Ezra Pound.
There is also the comic-book style mural of Pasolini by two well known Rome street artists Mr Klevra and Omino 71, at the Centro di Formazione Professionale in Ostia, the coastal district where the film director was murdered in 1975.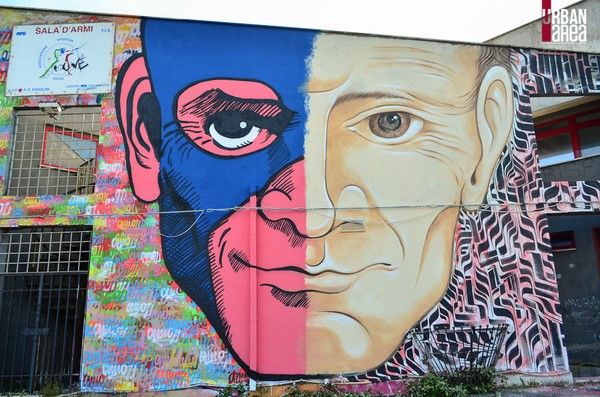 Then there is the pop art Pasolini portrait by Diavù (David Vecchiato), on the façade of the former Cinema Impero on Via Acqua Bullicante in Tor Pignattara.
However the image, or images, of Pasolini that gained most attention in Rome during 2015 were the posters which appeared overnight in mid-May, pasted in areas around the historic centre and in Ostia. The posters feature a double portrait of Pasolini, both alive and dead, modelled on the Pietà by Michelangelo. Their creator remained a mystery until it was eventually revealed they were the work of veteran French street artist Ernest Pignon-Ernest.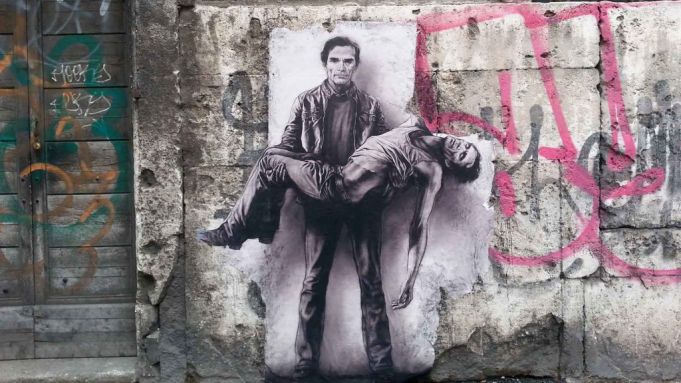 Pasolini had an intense relationship with his adopted Rome which he loved and hated, and which played such a central role in many of his films. A controversial figure, his political views earned him many enemies but since his tragic death he has become regarded as a visionary thinker and a major figure in the Italian arts.
Andy Devane