British volunteer provides meals for Italy's refugees.
In early September, the strength of a tragic and powerful photo of a solitary, drowned child face-down on a Turkish beach shocked people across Europe into supporting the plight of the refugees, in this case those escaping from the civil war in Syria. But even before this tragic scene had moved the public and politicians into action, nearly 3,000 migrants had already drowned this year trying to cross the Mediterranean.
A typical response to the photo was "It could have been me", as Europeans saw their own children, grandchildren, friends and family members in place of the tiny body on the beach. In a week of change, ordinary people and politicians across Europe finally started to recognise the needs of those at the heart of the biggest wave of migration since world war two.
In Rome at the beginning of June, a group of volunteers from the Communità di S. Egidio, a non-denominational organisation whose origins and global base are in Trastevere, arrived at one of the regular places where they provide food for the needy, off Via Teodorico near the Tiburtina station. They found the streets lined with recently arrived migrants, standing, sitting, squatting or lying prone on tattered cardboard.
A few hundred metres away at the bus station, the usual group of needy Italians and foreigners started assembling for the snacks distributed by S. Egidio week in, week out.
I was among those at Tiburtina that evening, handing out meals I had cooked in my kitchen to around 40 needy Italians and 100 foreigners at two separate points, to avoid fights breaking out.
It was heartrending and shocking to see the newly-arrived, thin and hungry migrants, especially knowing we only had enough food for the regulars at the station.
As darkness fell a food van arrived, apparently organised by the local parish. The new migrants queued in a way that suggested it was already a familiar arrangement.
It seemed to take around three weeks for the media to catch on to the situation at Tiburtina station.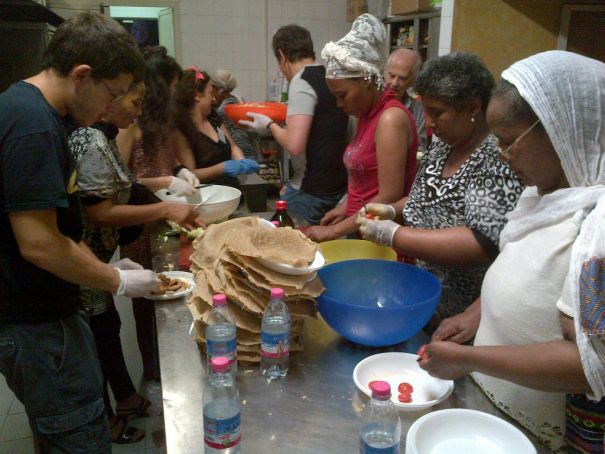 The downside of Italy's ensuing media coverage was that the police moved in, arresting 18, scaring many more, discarding cardboard houses and bundles of rags. Those waiting to continue their onward journeys found refuge at the Baobab Centre on nearby Via Cupa and at a tented village behind Tiburtina Station, erected by the Red Cross.
At the Baobab Centre, designed to house around 200 people, volunteers continue to feed up to 700 people three times a day.
After the media coverage in June, Italians streamed into the centre donating food, toiletries, clothes and shoes. Empty rooms at the makeshift camp were filled to the ceiling with provisions. Donations, especially of fresh food, men's trainers and jeans, are still needed.
Much of the food and clothes I still take to the centre have been donated by parents and pupils at St George's British International School at La Storta in north Rome.
When I first went to the Baobab Centre I intended to drop the food off and leave. In the end I spent the whole weekend there. I asked if I could help out, expecting to be put on a rota and to be called back another day. Within minutes I was in a room, sorting women's and men's clothes into sizes. Then I helped prepare numerous pans of polpettone in a steel, industrial scale kitchen. Under instruction from an Italian cook, we chopped huge quantities of onions, eggs and salad, mixed meat and grated cheese. That evening I served over 400 portions of pasta to go with small slices of polpettone.
Meal queues at Baobab stretch right down the street. Women and children eat first and everyone has to use hand sanitiser or they are not allowed into the food distribution area. Few smile or make eye contact as they are handed a plastic plate of food.
I apologised to one refugee that here in Europe we are not able to give a warmer welcome or make their lives more comfortable. He looked at me, then up at the sky, spread his arms and said: "This is heaven compared to where I have come from." He had spent 29 hours on an inflatable boat built for 10, with 99 of his countrymen.
Tiburtina Tuesday started early in 2015 when I joined a volunteer group handing out fruit with S. Egidio volunteers.
I enjoyed the evening, but I felt pretty useless. Anyone could have handed out the apples and I felt there was more I could do. I wanted to give those who come along something tastier and more nutritious that also demonstrated someone cared about them. I wanted to cook for them as if they were my own family, to give them quality ingredients and meat whenever I can. Although I buy keenly, I refuse to buy inferior produce.
The large-scale cook-in takes place in my kitchen in La Giustiniana. Each week I cook around 20kg of rice, three kg of lentils, six of dried beans of various kinds, three or four catering-sized tins of tomatoes and chick-peas, seven or eight chickens, as well as a second meat dish, which may be sausages, lasagne or ragù. I then give over 200 meals in take-away boxes to S. Egidio volunteers to hand out to Italians and stranieri to avoid being on my own at the station.
More recently, my daughters Alice and Tilly have been appealing for new shoes, both for the migrants and the regular poor people who gather at Tiburtina station. A chance donation of €50 coincided with two men asking for size 43 and 44 trainers. We bought new trainers for €20 each and spent the rest of the money on cotton T-shirts.
That spurred on our campaigns to put shoes on the feet of the poor, the homeless and the refugees. Give a man a pair of shoes and you give back his dignity.
Since then Alice has brought back 25 new pairs of trainers, 25 T-shirts and 40 pairs of socks from the UK, bought with money raised from crowd-funding via internet. The atmosphere at Tiburtina was a cross between mayhem and a festa.
The most touching moments were when we ran out of size 43 trainers. A man to whom we'd already given a pair of shoes gave his to another homeless guy.
While I am delighted that most European countries have finally woken up to the plight of refugees, I am frustrated that it has taken so long.
Meanwhile, Tiburtina Tuesday goes from strength to strength, and the collection of shoes and clothes has been supplemented with a new campaign to raise money for sleeping bags.
Mary Stuart-Miller
First published in the October edition of Wanted in Rome magazine.
Those who wish to support Tiburtina Tuesday can contact Mary Stuart-Miller on mary@mstuart-miller.co.uk.
Find out about the latest donations required by the Baobab Centre, Via Cupa 5.