Starbucks launches Oleato range in Italy.
Italy is famed around the world as the land of coffee and extra virgin olive oil. In a bold move, Starbucks is mixing two of the key staples of the Italian lifestyle into one drink, called Oleato.
The American multinational chain, which first opened in Italy in 2018, launches the new range of olive oil-infused coffee drinks in Milan on Wednesday.
Each of the three Oleato beverages is made with a spoonful of Partanna extra virgin olive oil in what Starbucks hails as a "velvety smooth" and "deliciously lush" culinary experience.
The Oleato range comprises a Caffè Latte with olive oil and "steamed with creamy oatmilk", and an Iced Shaken Espresso, described as a "coffee-forward beverage" with hazelnut flavour, oatmilk and olive oil.
There is also the Golden Foam Cold Brew whose olive oil-infused cold foam "cascades slowly through the dark, smooth cold brew", according to Starbucks.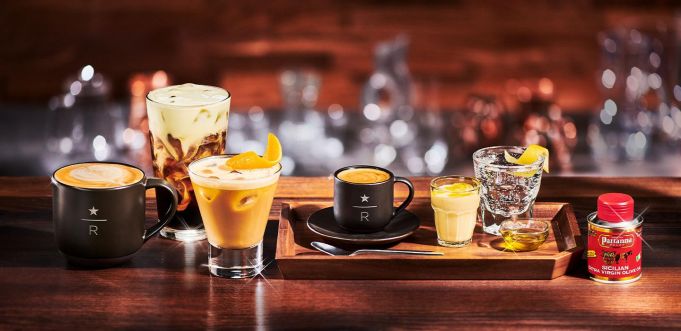 The launch of the Oleato range comes as the world's biggest coffee chain continues to expand in Italy, with rumours that Starbucks is set to open an outlet in a prestigious location in the centre of Rome.
"In over 40 years, I can't remember a moment in time where I've been more excited, more enthused" said Starbucks chief executive Howard Schultz on the company website.
After his first trip to Milan 40 years ago, Schultz rushed back to the US with a vision after experiencing Italy's coffee culture. Today Starbucks has 36,000 outlets around the world.
Last year Schultz had a similar revelation while travelling in Sicily: after combining olive oil with his morning coffee he was "absolutely stunned" at the "delicious and unexpected alchemy".
"In both hot and cold coffee beverages, what it produced was an unexpected, velvety, buttery flavour that enhanced the coffee and lingers beautifully on the palate," he said.
After Italy, Starbucks will launch Oleato in select locations around the world, beginning this spring with California and later this year in Japan, the Middle East, and the UK.
"It simply must be tasted to be believed", boasts the Starbucks website, however the big question remains: Is Italy ready for Oleato?
Photo Starbucks