Michelangelo's David make news headlines again after Florida school controversy.
An advertising poster created by an Italian restaurant in Glasgow featuring Michelangelo's David has been rejected by the company that manages subway billboards in the Scottish city due to nudity.
The advert by the Barolo restaurant had originally featured David, with his crotch on display, however this was rejected as inappropriate by the subway's advertising management company Global, reports The Herald of Scotland.
The original poster showed the naked Renaissance sculpture, cropped at the knees, holding a slice of pizza alongside the message "It doesn't get more Italian".
After the initial design was rejected Barolo suggested covering the sculpture's genitals with an Italian flag however this was deemed not big enough, reports The Herald, and the idea was not approved.
In the end the restaurant ordered a full reprint of the advert for the subway campaign, this time with the sculpture cropped above the groin.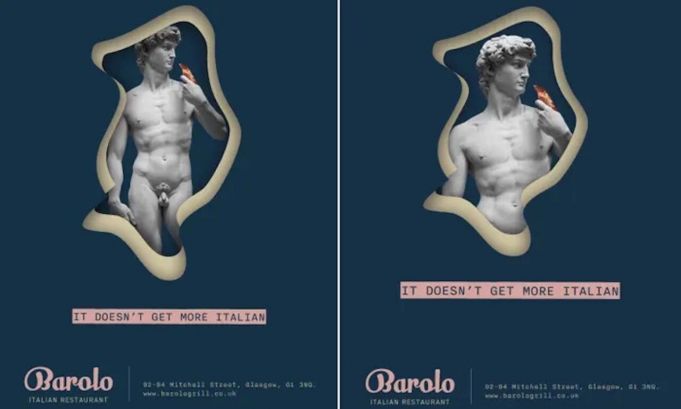 Mario Gizzi, director of the DRG Group which runs Barolo and several other restaurants in Scotland, told The Herald that they were "bemused" by the rejection of their advert by Global, a decision confirmed by the subway management company Strathclyde Partnership for Transport (SPT).
"This is a globally recognised piece of art. It is taught in schools. People from all over the world travel to see it" - Gizzi told The Herald - "It's not the 1500s anymore, it's 2023. Are we really saying that the people of Glasgow can't handle seeing a naked statue?"
The story has raised eyebrows in Italy, with the art publication Finestre sull'Arte writing tongue-in-cheek: "Scandal! In the country where men wear kilts with nothing underneath, displaying the Italian symbol in this way was considered obscene."
Earlier this year the world-renowned statue made international headlines after a principal of a Florida school was forced to resign following parental complaints that students who were shown the masterpiece were exposed to "pornography".
Hope Carrasquilla, the former principal of Tallahassee Classical School, said she stood down after being given an ultimatum by the school board to resign or be fired.
The case sparked an outcry in Italy and prompted the mayor of Florence to invite Carrasquilla to visit the statue in person at the city's Galleria dell'Accademia.
To the mayor's surprise, she accepted the invitation which was organised and sponsored by Friends of Florence.
Last month Carrasquilla travelled to Florence where Mayor Dario Nardella presented her with an award "in the name of art and culture" at a ceremony in city hall.