Once a sleek newcomer in Rome's five star hotel market, Rocco Forte's Hotel de Russie is facing growing competition as a wave of luxury hotel brands move into the city. But the iconic hotel off Piazza del Popolo still believes it has what it takes to stay at the top.
Hotel de Russie on Via del Babuino is synonymous with modern chic as it is with Old World charm. The five-star hotel is not merely a favourite haunt of celebrities and dignitaries (Angela Merkel apparently likes to stay in room number 501) but it has also become a voguish refuge for Rome's well-heeled.
In summer, the restaurant and bar spill into the garden whose terraced slopes climb towards the Pincio hill and the Villa Borghese, amid towering palms, magnolias and orange trees. In winter, candlelit dinners in the garden restaurant, Le Jardin, emanate tranquillity and romance. At aperitivo hour, the crowd is both international and (reassuringly) local all year round.
A century ago the hotel was popular among Russian aristocrats (hence the name) and cultural celebrities: Picasso, Cocteau and Stravinsky have all passed through. But after world war two, the building was largely abandoned and in the 1960s it was taken over by Italy's national broadcaster RAI as its headquarters.
The hotel was eventually reopened in 2000 by British hotelier Rocco Forte. It immediately became a popular choice in Rome's luxury hotel market. Its elegant and simple decor (designed by Rocco Forte's sister Olga Polizzi) provided an alternative to the baroque flourishes of velvet and gold often inescapable in hotels elsewhere in the city at the time. But today, after two decades as the top hotel in the capital, it is facing new competition as international brands like Four Seasons, the Rosewood and Six Senses are opening their doors in Rome in the coming years.
Wanted in Rome caught up with the new general manager, Giampaolo Ottazzi, in a quiet corner of the hotel bar. After beginning his new role in July 2021, Ottazzi has launched the hotel into an ambitious €26 million revamp. The gradual overhaul will eventually see all of its 96 bedrooms, and 34 suites, upgraded, refurbished and made ship-shape for the future in order to stay abreast of the growing competition.
This conversation has been edited for length and clarity.
Giampaolo, you became the general manager here in the summer of 2021, after 12 years managing the Hotel Cipriani in Venice. What sort of vision did you bring to the new role?
I took the role primarily because I am inspired by Sir Rocco's vision of the hospitality sector, which is very natural and cohesive. It offers a very personal and emphatic approach to the business and to service.
I also knew that after more than 20 years, the hotel was in need of improvements to ensure guests continue to receive the highest standards of service and quality, and to keep pace with the competition. We've been working bit by bit: we just finished refurbishing 28 rooms this year and our interior restaurant. We're aiming to do another 26 by next November.
What's been your biggest challenge since you arrived?
From someone like me who comes from Liguria in the north, my biggest challenge has been getting used to Rome. The city is much bigger than Venice. Of course, it's very beautiful but it's a whole different concept of organisation.
And the new competition?
It's true that lots of brands have recently discovered what an important destination Rome is. But, we're not worried. We've always been the top five star hotel in Rome - including in terms of occupancy rates, as well as revenues, and, if anything, the new hotels will bring us more customers from a food and beverage perspective.
That said, we won't rest on our laurels. That's why we're investing in redecorating the hotel and our facilities. Our objective for the next five years is to stay top in Rome.
Why do you think Hotel de Russie is considered so iconic in the city?
I think it's a mix of different things. Firstly, the service and comfort we offer our clients is unmatched. Anyone who comes here finds a level of detail and personal care that you can't find anywhere else in the city. Our work on this starts long before the clients arrive at the hotel.
Secondly, it has to do with the location. We're within walking distance from some of Rome's most important monuments, boutiques and restaurants. The Vatican, for example, is only 10 minutes away just across the river.
Lastly, it's the garden. It's our unique selling point. Most hotels in Rome have a roof terrace but our garden is singular in the city. It opens the whole hotel up and fills it with light, space and colour. We even have parrots in the trees and the same types of plants that were chosen by its original architect, Giuseppe Valadier back in the 19th century. Our garden is a landmark in the city, an oasis of tranquility.
The original hotel here welcomed many cultural figures and celebrities through its doors. Are there any parts of the hotel's history that stand out for you?
My approach is to look forward and so I haven't spent much time looking back into the distant past. Although of course the hotel has a rich history. The names of our suites and bars pay homage to the personalities that have passed through, including Cocteau and Stravinsky. Since the hotel was bought by Rocco Forte 20 years ago, the hotel remains a favourite location for celebrities, diplomats and actors who pass through here for film productions or for the Film Festival.
The hotel takes its name from Russian dignitaries and aristocrats who used to stay here in the 19th century. Have there been Russian guests here since Putin invaded Ukraine?
We've had almost no Russians this year. We were a bit worried at the beginning of the season as they represent about four or five per cent of our market. But luckily, the increase in the number of American guests this year has made up for it so from a business perspective we've been okay. Of course, the situation in Ukraine is very bad and we hope the war will end soon.
You mentioned the increase in American tourists. Have you experienced the "revenge travel" phenomenon here as well?
Yes. We were swept up in it last May. We had a boom of reservations. Our occupancy rates were much higher than our expectations. 60 per cent of our guests are American so the favourable dollar exchange rate also helped.
Winter is the low season in Rome's hospitality sector. How does the hotel make use of this time?
We've organised a whole series of events throughout the winter. We had José Mourinho's birthday here last week.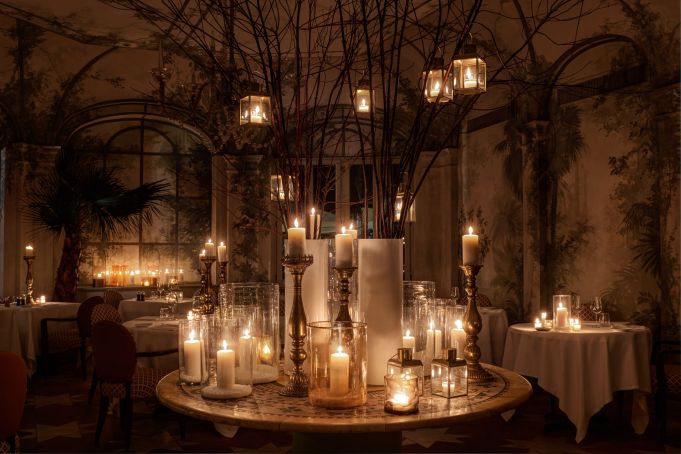 And on Valentine's Day we have the final and concluding evening in our series of candlelit dinners in our garden restaurant [the menu can be found here]. These dinners have been very pleasurable and popular. Next week will be the most romantic one.
What else can people look forward to?
In the spring, we will start our collaboration and programme of contemporary art. Typically, this is where we host an artist to exhibit some of their work in the hotel. Last year for example, we hosted the sculptor Jago for three months while Palazzo Bonaparte in Rome exhibited his work. He stayed here and we put some of his work around the hotel.
We will also have our gastronomical weeks coming up, organised by our chef Fulvio Pierangelin - who works a lot with local and seasonal ingredients. There will be an artichoke week, for example, and an asparagus one too. Slowly we are developing the calendar for the year... It's mainly to keep my staff busy...
Interview by Charles Seymour
Cover photo: Giampaolo Ottazzi in the Stravinskij Bar at Hotel de Russie, Rome.
General Info
Address
Via del Babuino, 9, 00187 Roma RM, Italy
View on Map
Interview with Rome's Hotel de Russie general manager Giampaolo Ottazzi
Via del Babuino, 9, 00187 Roma RM, Italy