Street art project dedicated to female icons of cinema.
Swedish actress Ingrid Bergman, who would have turned 100 this year, has been immortalised in a giant mural on a public staircase off Via Fiamignano in the north Rome suburbs near the Ipogeo degli Ottavi train station.
The work by well-known Italian street artist David "Diavù" Vecchiato is located near Primavalle where Bergman and her husband, the Italian director Roberto Rossellini, filmed many scenes from the neorealist film Europa '51.
Bergman's likeness is part of the Ossigeno 2015 Pop stairs street art project and is the first in a series of three portraits of female icons of cinema being painted by Diavù between now and September.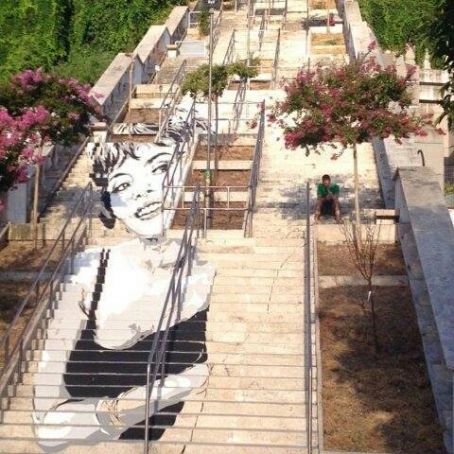 The second portrait, of Michéle Mercier, is currently underway on Via Ronciglione off Corso Francia, where the French actress starred in Il giovedì, the 1963 Italian comedy directed by Dino Risi.
The third portrait is of Elena Sofia Ricci on Via Ugo Bassi in Trastevere, which formed the backdrop to the 1990 film In nome del popolo sovrano by Luigi Magni.
The initiative, which is financed by the city as part of its Estate Romana cultural programme, concludes with a party and live music on 15 September at Stazione Ottavia.
For full details see the Ossigeno Facebook page.
See related article.
Photo Vincenzo De Francesco.