The Phillips Collection in Washington comes to Rome's Palazzo delle Esposizioni.
Andy Devane
16 Oct-14 Feb. Ahead of its centenary in 2021, the Phillips Collection in Washington has organised a major travelling exhibition of 62 European and American paintings by more than 50 artists. This is the first time that the prestigious collection comes to Rome, however several of its artists had links to the Italian capital, including the New York School painter Philip Guston, who was a fellow and artist-in-residence at the American Academy in Rome, in 1948 and 1971 respectively.
19th-century masters
The paintings, which range from the 19th century until world war two, were assembled by the assidious collector Duncan Phillips (1886-1966) and are displayed in chronological order. The exhibition begins with work by 19th-century masters such as Delacroix, Courbet, Manet, and Constable whose On the River Stour (1834-7) was painted towards the end of his life – a looser and expressionistic work, almost verging on abstract.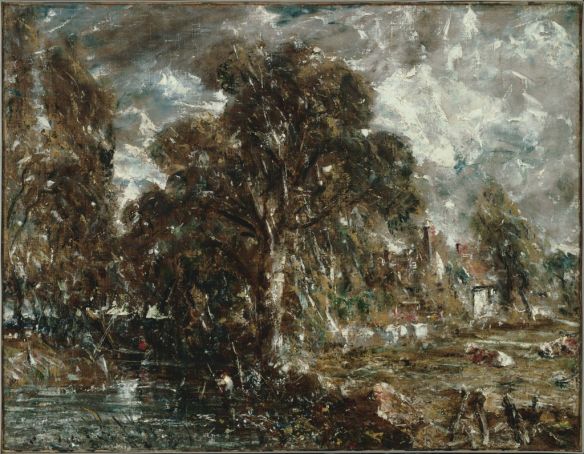 St Peter by El Greco and Goya
El Greco and Goya tackle the same subject matter – a repentant St Peter – albeit more than two centuries apart. In or around 1600, El Greco painted a supremely pious vision of the contrite apostle whose handsome, elongated face and fine clothes are illuminated by a divine light; by contrast Goya's dimly-lit Peter is stocky, balding – even earthy – but somehow more human and deeply sorry for his denial of Jesus. Phillips referred to El Greco as the "first impassioned expressionist" while Goya was "the stepping stone between the Old Masters and the Great Moderns like Cézanne."
Ingres
The surprisingly small, beautifully-framed Small Bather (1826) by Ingres is a later version of the more famous Bather of Valpinçon, which was painted in 1808 while Ingres studied at the French Academy in Rome. His paintings of nude female bathers were originally criticised for their exaggerated anatomy but were later recognised as Romantic masterpieces.
Impressionists
There are works by leading Impressionists Cézanne, Monet, Sisley, and Degas whose Dancers at the Barre steals the show. A recent restoration revealed that the work was painted at various stages over the last two decades of the 19th century. For Phillips it was a highlight of his collection, "a thrilling vision of dynamic forms in space." The chalky turquoise blue of the ballerinas' tutus complements the ember-orange hues of the canvas which was found in the studio after the artist's death in 1917.
20th-century masters
The exhibition continues with 20th-century masters including Braque, Gris, Matisse, Modigliani, Soutine and Vuillard, with three works by Picasso. Camera Blu (1901) recently made headlines when conservators discovered a "lost" painting of an unidentified man with a bow tie painted under the Blue Period work of a woman washing in her bedroom. The two other Picasso paintings are Woman with Green Hat (1939), a distorted portrait of the artist's mistress Dora Maar, and the cubist Bullfight (1934), a colourful, violent work featuring a lanced bull – a frequent Picasso motif – savaging a terrified horse.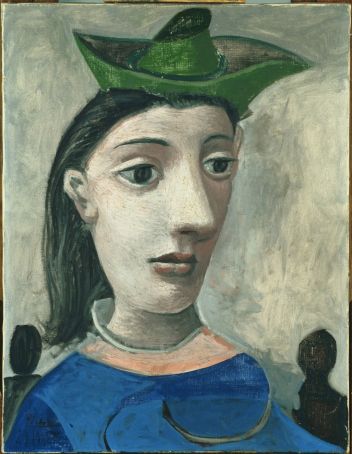 Bonnard collection
There are several pieces by Bonnard, reflecting Phillips' love for the French artist's work; he bought 25 paintings, assembling the largest Bonnard collection in America. The all-too-pleasing Riviera (1923) is a large, sunny landscape of summery brush and palm and mountains, while the earlier and less obvious Circus Rider (1894) – a small painting of a performer and her horse – radiates movement and fun, observed in the background by a sombre audience in rows of seats like sludgy gateaux.
Kokoschka and Kandinsky
Kokoschka certainly poured his heart into Courmayeur et les Dents des Gèants (1927), a huge painterly mountainscape, full of intelligence and depth of feeling, the oils pushed and scraped around the canvas which is still bare in patches. Likewise Autumn II (1912) by Kandinsky is a joyous series of coloured abstract forms reflected in a lake.
Gottlieb and Guston
Equinox by Gottlieb is inspired by primitive art influences – both Native American and tribal African – while The Lesson (1975) by Guston reflects the artist's stark, new, figurative style, adopted a few years previously. Guston considered many of these raw, abstract works as a form of self portrait; in The Lesson we see bald heads and bulging eyes, protruding out of a pinky grey desert, complete with an upturned pair of hobnailed boots, perhaps suggesting the harsh reality of life.
American artists
There are works by American artists Dove, O'Keeffe and Pollock, whose abstract Composition (1938-41) was clearly painted before he earned the moniker Jack the Dripper. The show concludes with works by post-war artists such as De Stael, Diebenkorn and Rothko.
Perfect introduction to 19th- and 20th-century art
The exhibition, which runs until 14 February, acts as a snapshot of the major painters in the 19th- and 20th-centuries, and would be a perfect art introduction for children during the Christmas holidays.
Palazzo delle Esposizioni 194, Via Nazionale, website.
This review was published in the December edition of Wanted in Rome magazine.