L'Arancio by Arturo Noci at Galleria d'Arte Moderna di Roma.
The academically-trained Roman artist Arturo Noci (1874-1953) initially came to prominence in Rome in the early 20th century as a landscape painter. However the young artist's career took a fortuitous turn in 1901 after he achieved immediate success at the Venice Biennale. Returning to Rome Noci swapped landscapes for portraiture, a more lucrative genre, and quickly gained the patronage of a wealthy bourgeoisie clientele.
His interest in the female figure made him one of the most sought-after portrait artists of the Belle Epoque period, with noble ladies queueing up to have him immortalise their beauty. When, in 1905, Queen Elena of Savoy purchased one of his pastels, Noci's name began circulating overnight in Itay's highest aristocratic circles. The artist revelled in his new found status, attending the most fashionable salons, mixing with the best known socialites and intellectuals of the day.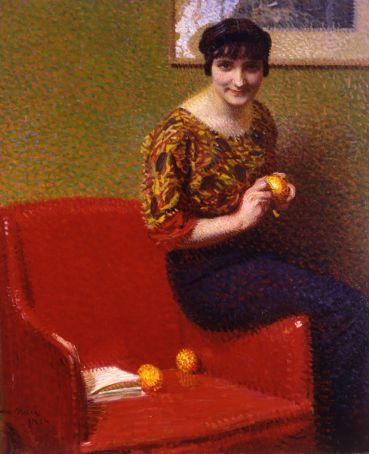 Noci's painting L'Arancio at the Galleria Comunale d'Arte Moderna di Roma was painted in 1914 and is described by the gallery as a "superb portrayal of middle-class intimacy." The work is characterised by warm tones and is a fine example of Italian Divisionisn, a Neo-Impressionist painting style defined by the desire to capture the effects of light, separating colours into individual dots or blocks for maximum optical effect. The suggestive portrait sees a woman perched on the side of a red chair, peeling an orange, her face lit with a mischievous smirk.
Noci's international success, plus his steady stream of commissions from an Anglo-American clientele, led the artist to move to New York in 1923, where he worked for three decades as a high-scoiety portrait painter. Today his works also hang in the Museum of the City of New York and the city's Rochester Museum. L'Arancio belongs to the permanent collection of the Galleria d'Arte Moderna di Roma.
Andy Devane
Photo: Arturo Noci, L'arancio, 1914, olio su tela, inv. AM 364, per gentile concessione di Roma Capitale-Sovrintendenza ai Beni
Culturali.